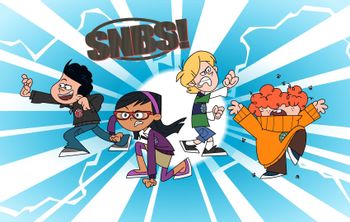 Supernoobs
is a Canadian animated series produced by
DHX Media
and created by American TV producer Scott Fellows, the creator of such series as
Ned's Declassified School Survival Guide
,
Johnny Test
, and
Big Time Rush
.
The universe is being destroyed by a virus that mutates people into monsters, and its only hope is a group of warriors given super powers by technology known as battle balls. When the Virus spreads to Earth, aliens Memnock and Zenblock are deployed to this strange, previously undiscovered world to recruit great warriors.
But because they know nothing about Earth, they end up recruiting twelve year olds instead. Hilarity Ensues.
The series follows Tyler, the leader and Only Sane Man; Shope, the academic prodigy; Kevin, a haver of bad ideas; and the Roach, who is... Roach. Together, they must learn to control their powers and drive back the Virus before it destroys the Earth.
The first season originally aired in the United States & United Kingdom on Cartoon Network, and is currently streaming on Hulu. It made its Canadian premiere on Teletoon in Fall 2016.
On January 11, 2018, the series was suddenly renewed for a second season
by its production company DHX Media, to instead air on its Family Channel, along with Cartoon Network in Europe, the Middle East and Africa, and Asia Pacific, with Hulu airing it in the U.S.
Supernoobs provides examples of the following tropes:
Even the Guys Want Him: The Incredibly Amazing Man falls under this as his heroic but destructive deeds and looks make a lot of women show attraction to him but it also affects guys such as Kevin and apparently Jock Jockerson.
---