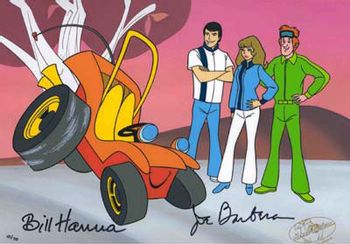 Hanna-Barbera created this Saturday Morning Cartoon, one of several following the lead on Scooby-Doo, for CBS in 1973. Throughout the rest of the decade, Speed Buggy rotated among the three networks' schedules.
Speed Buggy was a talking dune buggy, possibly the grandson of Chugga-Boom from The Perils of Penelope Pitstop. When his mechanic, Tinker, wasn't driving him in a race, Speed Buggy fought crime with Tinker and his friends, Mark and Debbie. Speed Buggy also crossed over to The New Scooby-Doo Movies and competed in the Laff-A-Lympics
The voice talent comprised Mel Blanc as Speed Buggy, Michael Bell as Mark, Arlene Golonka as Debbie and Phil Luther Jr. as Tinker (shown left to right in the page image).
---
This series provides examples of:
---