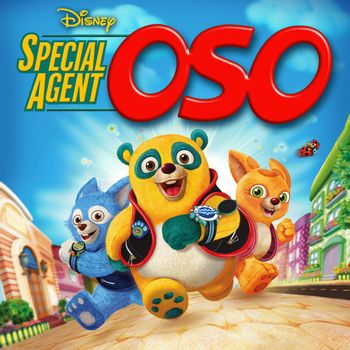 "HE'S OSO SPECIAL!"
Special Agent Oso (2009-2012) is a children's animated television series that aired on Disney Junior and seen for a couple of years when that programming block was still known as Playhouse Disney. It's about Oso, a "unique stuffed bear" who is a secret "special" agent in training working with some kind of nondescript agency, along with his training helpers, Wolfie and Dottie, and his trusty talking map Paw Pilot. Other characters include Mr. Dos, a deep-voiced man who only talks through Oso's watch, and Rapide and Whirlybird, a talking train and a talking helicopter, respectively.
In each episode, Oso is doing his agent training guided by Wolfie, Dottie or Buffo. He messes up his exercise at first, and that's when he gets a "special alert" from Mr. Dos, who alerts him to a child who needs help doing some sort of everyday thing, aka his special assignment. Oso then gets the "three special steps" from Paw Pilot which are needed to help the child and complete the assignment successfully. After helping the child, Oso goes back to agent training where he tries at his exercise again; this time, he remembers a technique from when he helped the child, which he uses to complete the exercise correctly. Oso is then reviewed of what he did during the assignment and is awarded a "Digi-medal".
Basically, it's James Bond meets Dora the Explorer meets Winnie the Pooh.
The new Disney Junior block includes a short show called Special Agent Oso: Three Healthy Steps in which Oso observes as real-life children take three healthy steps to complete some sort of physical activity, such as jumping rope, swinging on a swing or fixing a salad.
---
Special Agent Oso contains examples of:
---