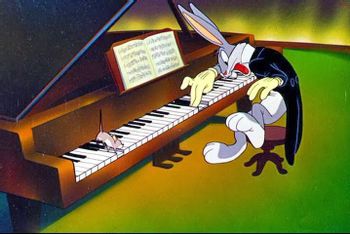 "
Eh, what's up, doc? Who? Franz Liszt? Never heard of him. Wrong number.
"
Rhapsody Rabbit is a 1946 Bugs Bunny cartoon short, released in the Merrie Melodies series and directed by Friz Freleng.
The plot is simple. Bugs is a concert pianist performing Franz Liszt's "Hungarian Rhapsody No. 2". While playing, he begins to be bothered by a mouse that is living inside his piano. The mouse interrupts Bugs's recital repeatedly, sometimes jumping out from a hole to play a note that doesn't fit, sometimes playing an entirely different piece. Bugs tries to get rid of the mouse, at one point shoving a stick of dynamite into the piano, but the mouse always escapes. In the climax, Bugs flips the pages of his music only to find a tangled morass of notes all over the page. After a brief silent prayer, Bugs sits down to play—only to hear the mouse over on stage right, pounding out the frantic ending of the rhapsody on a toy piano that sounds real. Bugs plays the last three notes of the rhapsody, and the cartoon ends.
This cartoon is notable for two things:
It was the very first cartoon to air on Cartoon Network back when that channel premiered in October 1992.
It was accused of plagiarizing the Tom and Jerry short "The Cat Concerto", since both were released at around the same time, both center on a pianist being bugged by a mouse while playing Franz Liszt's "Hungarian Rhapsody No. 2", some of the same gags are used, and the cartoons visually resemble each other. MGM and Warner Brothers accused each other of plagiarism. To this day, no one knows who ripped off whom, or whether this was a deliberate act of plagiarism or just a coincidence. Friz Freleng himself insisted that the latter was the case, because Technicolor, who was already swamped with work, accidentally sent finished footage of "Rhapsody Rabbit" to MGM. When they saw that Warner Bros. was making a similar cartoon, they rushed "The Cat Concerto" to its completion and put that short up for Oscar consideration.
---
"Rhapsody Rabbit" provides examples of:
---