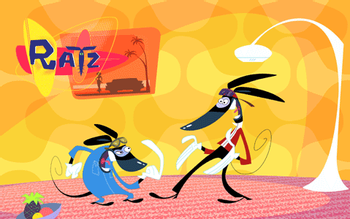 Ratz is a Franco-Canadian animated series produced by the Montreal-based ToonCan Productions and France's Xilam. Created by Richard Zielenkiewicz, the show aired on Teletoon in Canada and France 3 in France, running for a single season of 26 episodes.
Two rats, Rapido (Ramzy Bedia in French) and Razmo (Éric Judor), are stowaways on the S.S. Wanderer, a cargo ship transporting a huge amount of Gouda cheese. When they're not dealing with the current crisis (often due to themselves, the crew or temporary passengers/cargo), they race throughout the ship using "ratboards", makeshift flying racecars.
Not to be confused with Bratz.
---
Ratz provides examples of the following tropes:
---