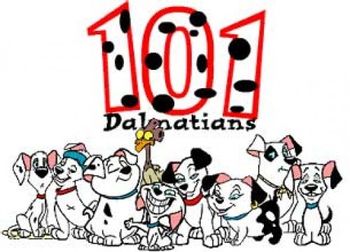 The success of the live-action 101 Dalmatians prompted a spin-off Animated Series that ran in both syndication (as part of what remained of The Disney Afternoon) and as part of ABC's One Saturday Morning lineup in the 1997-98 season. This was produced by Jumbo Pictures, the firm that produced Doug and PB&J Otter.
The series takes place in an odd Alternate Continuity of sorts after the movie where the Dearly Family (originally Radcliffe in the films) have moved to a farm to house their large canine family. Despite the title, the show actually focuses on four characters: Lucky, Cadpig, Rolly and Spot (who is actually a chicken but nevertheless their friend) and their misadventures interacting with the other puppies and livestock around the farm. While also dealing with Cruella de Vil who, of course, still has her eyes on the puppies for her own schemes.
The television show was seen briefly as part of the Disney Junior lineup on Disney Channel and was one of the shows that launched with the Disney Junior network (albeit in the early morning slot, so obviously it was just considered filler), but as of September 3, 2013, it is no longer airing on the network.
It is available to purchase in the United States on iTunes, Google Play, and YouTube. The full series is also available to stream on Disney+.
Not to be confused with 101 Dalmatian Street, another cartoon spin-off of 101 Dalmatians, which began in 2018.
---
101 Dalmatians: The Series provides examples of:
open/close all folders
A-D
E-I
J-N
Literal Split Personality: The episode "Good Neighbor Cruella" has Cruella DeVil split herself in two in order to improve her public image by having her good side do good deeds for her. The good-Cruella ended up being more obnoxious and intolerable than the evil-Cruella, due to her overbearingness and niavety. The puppies end up fusing her back together, since both her halves are even harder to handle than a single Cruella.
O-Z
---