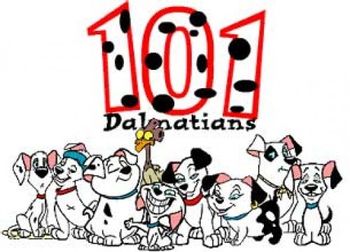 The success of the live-action 101 Dalmatians prompted a spin-off Animated Series that ran in both syndication (as part of what remained of The Disney Afternoon) and as part of ABC's One Saturday Morning lineup in the 1997-98 season. This was produced by Jumbo Pictures, the firm that produced Doug and PB&J Otter.
The series takes place in an odd Alternate Continuity of sorts after the movie where the Dearly Family (originally Radcliffe in the films) have moved to a farm to house their large canine family. Despite the title, the show actually focuses on four characters: Lucky, Cadpig, Rolly and Spot (who is actually a chicken but nevertheless their friend) and their misadventures interacting with the other puppies and livestock around the farm. While also dealing with Cruella de Vil who, of course, still has her eyes on the puppies for her own schemes.
The television show was seen briefly as part of the Disney Junior lineup on Disney Channel and was one of the shows that launched with the Disney Junior network (albeit in the early morning slot, so obviously it was just considered filler), but as of September 3, 2013, it is no longer airing on the network.
It is available to purchase in the United States on iTunes, Google Play, and YouTube.
Not to be confused with 101 Dalmatian Street, another cartoon spin-off of 101 Dalmatians, which began in 2018.
---
This cartoon contains examples of:
Batman Gambit: Ed Pig did nothing to sabotage Lucky's run for Mayor because he knew it'd be a matter of time until Lucky screwed up and he'd become Mayor again.
Brainy Brunette: Spot, who was completely brown and black along with being The Smart Girl qualifies for this.
Brand Names Are Better: In one episode, Dearly Farm runs out of its usual supply of Kanine Krunchies. Lucky, Cadpig, Rolly, and Spot are offended and horrified when they hear that they'll get AnyMutt brand kibble instead, arguing it must be worse because it doesn't have TV adverts. After foiling an attempted robbery on the local store, the pups and chicken are rewarded with dog food. Said dog food is AnyMutt, yet they didn't notice the difference. Or care since AnyMutt is apparently just as good, if not better.
A Day In The Lime Light: Some episodes were featured on one character of the cast. LT. Pug, Tripod, Two-Tone, Spot....
Dead All Along:

Dimsdale De Vil in "De Vil-Age Elder".

Demoted to Extra:

Pongo and Perdita. See Spin-Offspring below.
The large majority of the animal cast from the original movie for that matter, most episodes focusing mainly on Lucky, Rolly, Cadpig and Spot as the leads.
Didn't Think This Through: When the other three express reluctance to skip Bark Brigade to go to the mall, Lucky says they can just get the first dog to give them an official pardon. Of course, that plan hinged on them actually getting to the first dog, which they ultimately fail to do.
The Ditherer: Two-Tone. A Running Gag with her involves her opinion of someone or something rapidly changing as she talks about it.
Dub Name Change:

Cadpig is Goliathnote in some dubs, others Penny (a character from the 1961 movie).
Spot is called Kwoka in the Russian dub. Don't ask why.

In the Dutch version Cadpig is Floppy.
Evil Brit: While the rest of the characters are Americanized, Cruella, judging by her accent, remains British. Hmm...
Four-Fingered Hands: Mostly averted, as most humans we see are shown to have the correct number of digits on their hands. Though, it does get lampshaded, when played straight in "Close, But No Cigar", when a TV announcer used his hands to visualise a $10,000 prize, then realised he was lacking in digits.
Laugh Track: In "You Slipped a Disk," one is briefly played after Lucky accidentally pounces Rolly and Cadpig suggests "Um... Lucky? Next time, why don't you tackle the bad guy?" It comes up again in the episode's second half, "Chow About That?," when she suggests that Rolly is having a "psychic sugar rush." It also comes up in "It's a Sawmp Thing" after Lucky says to Spot, "I said a scarf, not a muffler!"
Lawyer-Friendly Cameo: During the Grand Finale, Wile E. Coyote (!) briefly stops chasing the Road Runner to answer the Twilight Bark.
Little Miss Snarker:
Lost in Imitation (again): The premise and cast are a motley mix of all three previous versions. The characters all look (more or less) like the ones from the 1961 film, and Cruella apparently never went to jail, but Anita works for Cruella's fashion company, Roger is a video game developer, their last name is Dearly, and all the new puppies from the 1996 film get secondary roles. And Cadpig, who only appeared in the original book, is one of the lead characters!
Mad Libs Catchphrase: Cruella's "Memo to myself..."
Malicious Misnaming: Cruella has a habit of addressing Roger with other R words like Rupert, Roadhog, Retro, Rudolph, etc. Very rarely does she get his name right.
Monster Clown: In "You Say It's Your Birthday", Cruella attempts to sabotage the Dearlys' surprise party for the pups while under the impression that it's Anita working for her competitor. She infiltrates it while disguised as a clown. As if she wasn't creepy enough.
The Movie: The final three episodes of the series were also released as a direct-to-video movie, Dalmatian Vacation (but only in foreign countries), bringing the total number of 101 Dalmatian-themed Disney movies up to five.
Remember the New Guy?: Spot only appeared in one scene of Home is Where the Bark Is (asleep, no less) then in the next episode, she was friends with the main trio.
Rent-a-Zilla: Chockzilla, rented from an ad agency by Cecil B. de Vil to destroy the Dearly farm.
Road Sign Reversal: Occurs in the first episode to lure Cruella away from the three main puppies she's chasing after in her car.
Scooby-Dooby Doors: Happens when Lucky, Rolly and Cadpig pursue Scorch in "You Slipped a Disk".
Through a Face Full of Fur:

In "Spots And Shots", Lucky's fur eventually turns green and his spots turn pink, as well as his nose turning blue and swelling up. This is a result of him not getting the vaccination needed to prevent these symptoms of a highly contagious condition from happening, after he spent the day attempting to avoid seeing the vet.
In "Beauty Pageant Pandemonium", an irate Ivy's face turns red when her chances at winning the contest (due to her aunt Cruella's not-so-full-proof plan) turn bust.
In "Love 'Em And Flea 'Em", Lucky's fur is turned pink from pink food coloring that Mooch spills intentionally (in an effort to be Two-Tone's date at the dance instead), mixed with water and soap, after being bathed by Nanny. And at the end of the episode/segment, a steamed Mooch gradually turns red from bottom to top and steam comes out of his ears when his sabotage fails and Lucky tells him, "Cheer up, Mooch. You look so blue".

Time-Travel Romance: "De Vil-Age Elder" features the main cast (and Cruella) arriving in a time and space-transcending village cursed by a witch as a response to Cruella's ancestor's harshness. The witch's spell reduces all but Cruella and Spot to become mindlessly happy and never want to leave. During their stay, Lucky meets up with a carriage pup named Rebecca and becomes smitten with her. When the spell is broken and the main cast are making their escape before the village disappears, Lucky still shows legitimate feelings for Rebecca and asks her to come with them. While the feeling is mutual, Rebecca chooses to remain to keep an eye on Cruella's ancestor. And because it wasn't enough of a Bittersweet Ending, Laser-Guided Amnesia kicks in, leaving Lucky completely unaware of her existence not long afterwards.
Perdita, Cadpig, and Two-Tone all have blue collars.
Visual Pun: In "Oozy Does It", when Lucky is making a speech to the other animals of Dearly Farm about how sometimes a small group can make a big difference, he is literally standing on a soapbox.
Win to Exit: The end goal of the episode "Virtual Lucky".
You, Get Me Coffee: When Lucky first meets Thunderbolt in "Watch for Falling Idols," Thunderbolt tells Lucky to get him some lunch — "a mineral water and a croissant, if you can find it." Unlike most instances of this trope, however, Lucky is thrilled to do it, because he's so starstruck.
---