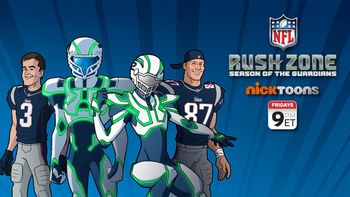 NFL Rush Zone
is an animated action-adventure television series on the Nickelodeon network, debuting September 6, 2010 and running until October 22, 2014 for three seasons.
The first season (titled Guardians of the Core) stars Ish, a young boy who is named a Guardian, given powers and tasked with protecting the 32 NFL teams and their shards (recognized as the various teams' symbols). The 32 shards make up the Core and are incredibly powerful. Ish must stop the evil Sudden Death from using them for his own nefarious purposes.
The second season (titled Season of the Guardians) follows the ever expanding Guardians forces facing off against a new villain called Wild Card. The shards have been revamped as Megacores.
The third season (titled Guardians Unleashed) features the aftermath of the Guardians last encounter with Wild Card and the return of Sudden Death.
The series is, in part, produced by the NFL and feature various NFL stars as guest voice actors as themselves in the show.
---