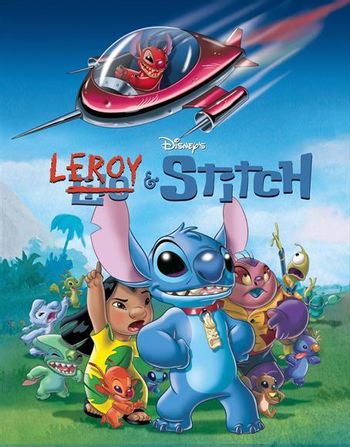 Leroy & Stitch is a 2006 animated television film and the Grand Finale film of Lilo & Stitch: The Series. It is the fourth and last film in the Lilo & Stitch franchise, but not the franchise's last work; not by a long shot. It is, however, the conclusion to the original Western-produced, Lilo-focused parts of the franchise. It aired on Disney Channel on June 23, 2006,note four years and two days after the theatrical release of Lilo & Stitch aired on Toon Disney three days later, and was released to DVD the day after Toon Disney's broadcast.
Having captured all six hundred twenty-five experiments, Lilo and the gang are rewarded by the Grand Councilwoman for their good work. Jumba gets the key to his old lab, Pleakley gets a post as head of Earth Studies at the Galactic Alliance Community College, Stitch is granted a commission as a captain of the Galactic Armada, and Lilo becomes ambassador for Earth to the Galactic Federation and the sole official caretaker of the experiments. Unfortunately, this means they will have to split up, and after a sad goodbye, they go their separate ways.
However, Hämsterviel has once again escaped thanks to the efforts of Gantu, and he seeks to wrest control of the Federation, with the forced help of Jumba and his newly-running laboratory.
---
Leroy & Stitch provides examples of:
---