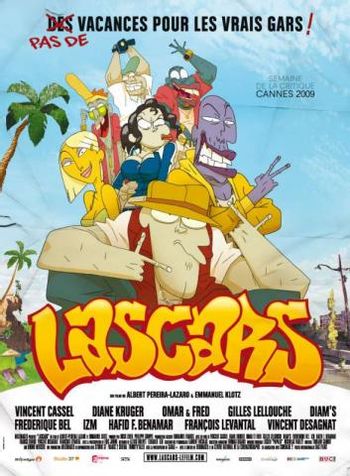 Lascars is a French animated series created by Boris Dolivet a.k.a. El Diablo. It depicts with humor the misadventures of the youth subculture influenced by Hip-Hop, the series mostly uses verlan slang and adult humour, the episodes are usually shorts (1 minute). 2 seasons (60 episodes) was made in 1998 and 2007, an unaired pilot was also made for a 20 minute series.
The series also hit the cinema with an animated movie in 2009 which features the voices of Vincent Cassel and Diane Kruger.
---
Lascars (the series) provides examples of:
---
Lascars (the movie) provides examples of:
Ink-Suit Actor

Samy and Narbé are dubbed by the comic duo Omar & Fred; these characters seem to be made for them.
Also, one of John Boolman's "actresses" is dubbed by Katsumi, a real porn actress.
Lover's Ledge: Subverted, where the man on the ledge is the actual boyfriend, trying to escape his enraged girlfriend after a misunderstanding (even has him in his underwear).
Punny Name: Judge Santiépi which means "sans pitié" (no pity) in verlan slang.
Reckless Gun Usage: Zoran manages to shoot himself in the foot during a tantrum.
Unlucky Everydude: Tony Merguez doesn't have chance with girls, even when he has a girlfriend.
---