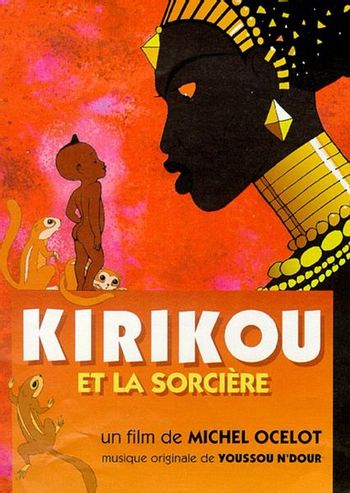 Kirikou et la Sorcière (Kirikou and the Sorceress) is a 1998 French animated film, directed by Michel Ocelot, loosely based on a Fulani (a people in West Africa) fairy tale.
It tells the story of a tiny baby boy, named Kirikou, who is born in a spectacular way (all by himself, without effort of his mother nor outside help) and can speak and walk immediately after being born. After a couple of questions, he learns that a wicked sorceress, Karaba, has cursed the village and devoured all the men and boys, except his uncle, who is on his way to fight the sorceress. He tricks the sorceress, saves his uncle as well as the children of the village (twice!), brings the water back to the dried-up spring and, among other things, discovers the sorceress' true motivations.
There's lots of controversy because of the depiction of nudity, although the real pre-colonial Africans did walk that way in a completely asexual atmosphere. But since America has terrible issues with women's nipples, the film wasn't released in the United States until 2002.
It was so successful that it spawned an interquel called Kirikou et les bêtes sauvages (Kirikou and the Wild Beasts) in 2005 and a musical, Kirikou et Karaba (Kirikou and Karaba), in 2007. A second interquel, Kirikou et les Hommes et les Femmes (Kirikou and the Men and Women), was released in 2012 and focuses on the people of Kirikou's village and beyond.
---
Kirikou and the Sorceress provides examples of:
---