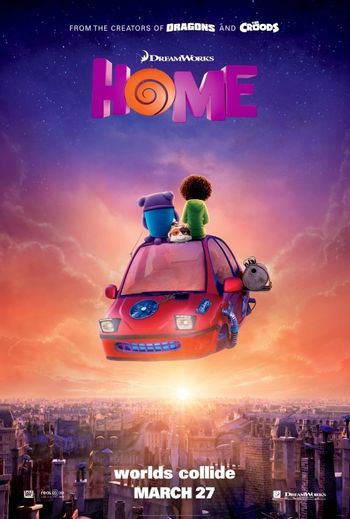 Home is a 2015 computer-animated feature film from DreamWorks Animation directed by Tim Johnson, based on the 2007 children's book The True Meaning of Smekday by Adam Rex. The film is about an endearing but inept race of aliens called the Boov who invade Earth in order to take cover from their alien enemies and move the human race to Australia to live in pre-fabricated cities while the Boov take the rest of the world. After one hapless Boov accidentally transmits the Boov's location, he goes on the run from the rest of the Boov and runs into a young Human girl called Tip who's searching for her mother. A short film Almost Home was released in front of both Mr. Peabody & Sherman and Rio 2, detailing the events before the start of the movie proper.
The film stars Jim Parsons, Rihanna, Jennifer Lopez, and Steve Martin.
Despite receiving mixed reviews from critics, the film was warmly received by the general public. The film became a box office success, grossing $386 million worldwide against its $135 million budget.
See Almost Home here
. Here is the first official trailer
for Home.
In July 2016, a sequel series Home: Adventures with Tip & Oh premiered on Netflix
Not to be confused with any of these other works also titled "Home".
---
Home provides examples of:
Flying Car: Oh rebuilds Tip's broken car so it can fly, under the impression that it was supposed to do that.
Foreboding Fleeing Flock: Oh and Tip discover that the Boov are flying alongside them, but are not attacking them. Turns out they were fleeing a Gorg drone.
The Foreign Subtitle: Home: A Minha Casa (My House) (Portugal).
Playing Possum: One of the Brain Boov suggests pretending they are dead so the Gorg will leave them alone. She continues pretending even at the end of the film.
"The Reason You Suck" Speech: Tip gives one to Oh for what his species have done to Earth, after he tried to get her to come with him for safety. Tip also tells him his people are not even his family.
Rushmore Refacement: The Boov manage to reface pretty much every monument with a face, on top of levitating them all.

All the monuments are put back and restored once the Boov make peace with the humans

.
Shout-Out:

When the Slushious blasts away from the gas station, it leaves a license plate spinning on its corner a la Back to the Future.
The five-note vocalized intro to Feel The Light is reminiscent of the five-tone musical phrase used by the UFO in Close Encounters of the Third Kind.
Oh mistakes a urinal cake for a mint. Ten years earlier in Madagascar, Melman did the exact same thing.
---