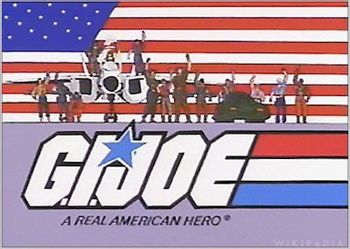 "G.I. Joe is the code name for America's daring, highly-trained special mission force. Its purpose: to defend human freedom against Cobra, a ruthless terrorist organization determined to rule the world."
The first (and most popular) Animated Show in the G.I. Joe franchise.
G.I. Joe was formed with the expressed purpose of stopping the terrorist group Cobra and the weapon distributors, mercenaries and scientists they hire. The Joes consists of military personnel from the Army, Navy, Air Force, Marines, and Coast Guard with a variety of skills and military specialities.
The series premiered with a Five-Episode Pilot in 1983. The writing and distribution of the series was handled by both Marvel Productions and Sunbow Entertainment. Animation was done by Toei Animationnote with feeder studios Sei Young and Dai Won and occasionally AKOM (both uncredited, as was normal for Marvel/Sunbow shows of that time). The show ran for two whole seasons along with three other five episode mini-series until it was cancelled in 1986 after 95 episodes.
Following G.I. Joe: The Movie in 1987, DIC Entertainment took over from Sunbow. Animation was done by Sei Young. Starting with the Five-Episode Pilot in 1989, Operation Dragonfire, the DIC series ran for two seasons from 1990 through 1992, lasting 44 episodes.
Now has a character page: requesting trope support, sir!
---
Now you trope:
Only Sane Man: Cobra Commander, of all people, tends to be the only sane person in the entire show. Incredibly, when Serpentor is being created, he is actually the one person who recognizes how bad this can turn out. Sure, it's mostly because he doesn't want to lose control (and his own incompetence got him dethroned to begin with) but he also makes a terrific point when Mindbender declares his plan to use Sgt. Slaughter's DNA in place of Sun Tzu's.

Cobra Commander: What a brilliant idea, Mindebnder! Using the DNA of our greatest enemy to create our new emperor will give us just what we need...a built-in traitor!

He's also proven dead right warning Serpentor that a full-scale invasion of Washington D.C. is one thing but holding onto the city against the full weight of the U.S. military and G.I. Joe is going to blow up in his face.

Opening Narration: Quoted above; it played during an instrumental break in the Expository Theme Tune.
Organic Technology: Everything in the Cobra-La hideout in The Movie
Pie in the Face: Macguffin Device-created Super-Deformed versions of Leatherneck and Shipwreck splat Dr. Mindbender with a cream pie in "Once Upon A Joe." After the second pie, Mindbender snarls, "I hate that sailor..."
Pirate Parrot: Shipwreck's parrot
Plagued by Nightmares: Low-light is plagued with nightmares every night due to a abusive childhood at the hands of his father. When Dr. Mindbender invents a device that gives the other Joes nightmares, Low-Light is able to shrug them off because they are much tamer than his usual ones.

Low-Light: You gotta be tougher than that! I'm not a wimp anymore! I'm a G.I. Joe! And nothing stops a G.I. Joe! NOTHING!

Praetorian Guard: the Crimson Guard
Preacher's Kid: Lifeline was a type 1 (angelic); his dad was a minister.
Predatory Business: In the 80's show, the Red Rocket franchise pops up all over in one episode, even planning to buy out Roadblock's family restaurant (the owners won't sell, of course). Then it turns out that Cobra is involved, and the rockets adorning the buildings are carrying their latest WMDs, the warhead shaped Photon Disintegrators. The Joes stop the plot, and Roadblock's family restaurant becomes "The Joes' Place".
Promotion to Opening Titles: Inverted with Destro. The original version of the opening song (as heard in the two mini series) Listed him alongside Cobra as G.I. Joe's enemies,note while the one used for the actual series had his name removed.note
Psychopathic Manchild: The titular villain of the episode "The Gamesmaster". Not only does he capture Flint, Lady Jaye, the Baroness, and Cobra Commander in order to kill them all as part of some twisted game, but he also has toy soldier minions, tends to taunt his captives childishly, and he throws temper tantrums when he doesn't get his way.
Punny Name: Cutter's real name is Skip A. Stone. You might think he's a Navy man, but actually he's from the Coast Guard.
Put on a Bus: Clutch, Grunt and Steeler ended up staying behind in a parallel universe run by Cobra (in the cartoon). The three were part of the much plainer 1982 lineup, and thus were being written out in favour of the "cooler" new characters. At least they got a send-off in a two-parter episode and not just ignored (poor Zap).
Ragin' Cajun: Gung-Ho
Rated M for Manly: Pretty much unavoidable if the show's premise is about soldiers duking it out with a terrorist organization.
Reality Ensues:

In the last episode of "Arise, Serpentor, Arise!", the Cobra Emperor orders his troops to take over Washington D.C. Easily done, but as Destro points out, holding U.S. territory once its armed forces get going is another thing entirely.
In "Raise the Flagg!", once the title event takes place, the characters who spent extended time down below begin to suffer from the bends and have to spend time in decompression chambers.

Redshirt Army: There aren't enough named characters to realistically take on Cobra. So in large battle scenes, the GI-Joe army is padded out in the background with essentially cut-and-paste clones of the most generic Gi Joe: Grunt.
Robot Me: Cobra attempts to infiltrate G.I. Joe with an android replica of General Hawk in the DiC series episode "A is for Android".
Rouge Angles of Satin: One episode ended with the Crimson Twins tearing up their "elbction" ballets.
Rule of Three: In each of the original three Five-Episode Pilots ("The MASS Device", "Revenge of Cobra", and "Pyramid of Darkness") Duke gets taken hostage in the first episode. In the original, he escapes by the second episode, but he remains held captive for the majority of the other two.
Sacrificial Lamb: Averted in the MASS Device pilot miniseries, when Snake-Eyes gets fatally irradiated... and then implausibly cured by the Bedouin Rescue Service.
Samus Is a Girl: Part of Scarlett's Establishing Character Moment in the first cartoon miniseries.
Scary Shiny Glasses / Sinister Shades: Lowlight. On the Cobra side, the Tele-Vipers, sometimes, when they are taken seriously.
Screw This, I'm Outta Here!: In the episode where a street gang works for Cobra, one of them runs off to save her little brother from a burning building. One of the Dreadnoks tries to stop her, reminding her of her job. But she doesn't care anymore and runs, with Scarlet (who she's been antagonistic towards) helping her. The other gang members (who laughed at her little brother for trying to join in) decide to leave as well.
Semper Fi: Gung-Ho and Leatherneck.
Sergeant Rock: Duke.
Shared Universe: With most of the other Marvel/Sunbow/Hasbro cartoons that followed it. The Transformers had Daina of the Oktober Guard cameoing in a season 2 episode, while season 3 had an aged Cobra Commander (now known as "Old Snake") appearing, and Marissa Faireborn, head of the Earth Defense Command, was implied to be the daughter of Flint and Lady Jaye (the Quintessons briefly making her hallucinate an aged version of Flint who she addresses as her father). Meanwhile, Inhumanoids, implied that Ace of the Joe Team and Sabre Jet of the Earth Corps were the same person (both were named Brad J. Armbruster- even if they didn't exactly appear the same). And all three shows, plus Jem, were linked via the multiple appearances of Hector Ramirez. Also, the Action Figure File Card for C.O.P.S. member Checkpoint hints that he's a descendant of Beach-Head. G.I. Joe also shared many of the same music tracks with The Transformers in later episodes.
Shirtless Scene:

Snow Job is stripped naked by the natives in "Haul Down the Heavens".
Shipwreck gets one in "Once Upon A Joe".
Iceberg gets one when Dr. Mindbender turned him into an orca as part of his experiments.

Slave Liberation: Subverted. When imprisoned by Cobra in the miniseries, Scarlett starts a rebellion among their slaves, but the base's riot troops are able to deal with it, making it no more than a temporary disruption.
Snow Means Cold: In "The Revenge of Cobra", Destro uses the Weather Dominator to create an instant snowstorm in the desert.
Something We Forgot: The Action Figure File Card for Sneak Peek, the team's recon specialist, provides an example.

Sneak Peek is a legend in the Ranger recon battallions. They tell of one mission where his control unit got overrun. In the ensuing confusion, Sneak Peek was never recalled. He stayed put, observing enemy activity, taking notes and sketching maps for two weeks until somebody remembered he was out there and sent him the signal to return!

Supernatural Martial Arts: Going by their moves, many people apparently have it, even characters who aren't otherwise themed around martial arts. Storm Shadow is the king, though. In one episode, he used karate to mission-kill a tank.
Stock Sound Effects: In-universe example: both the Joes and Cobra tended to use the same alarm sounds. Meta example: some weaponry and explosion sounds were similar to those of other scifi shows and movies.
Suspiciously Similar Substitute: Vehicular equivalent of this trope. Some vehicles on both sides were based on real ones at the time, like G.I. Joe's M.O.B.A.T., based on the MBT-70, a prototype which never saw action in real-life. Their Skystriker was also clearly the now retired F-14 Tomcat, with a different paintjob. Cobra's Rattler was less of one, only having a passing resemblance to the A-10 Thunderbolt/Warthog.
Swiss Bank Account: Firefly mentions having a Swiss account in "Eau de Cobra".
The Speechless: Snake-Eyes, when we are given a reason for his silence
Supreme Chef: Roadblock is a skilled cook.
Take That!: The DiC series episode "Cobra Land" has Jose Rivieria at one point being called away by a report of some "whining turtles stuck on their backs in the sewers".
Tank Goodness: The heroes are a military organization. It wouldn't make much sense if tanks weren't used.
Teleporters and Transporters: The MASS Device.
Title Theme Tune: Amped up for The Movie.
Took a Level in Badass: At the beginning of the DIC run, which picks up where the movie left off, Cobra Commander is still a snake, but is restored to human(oid) form by the Baroness and Gnawgahyde. He wrests control of Cobra back from Serpentor, gets revenge by turning Serpentor into an iguana, and then when he goes after the Joes they actually have a hard time defeating him!
Trashcan Bonfire: One appears in a bad part of town in the episode "Cold Slither".
Tunnel King: Tunnel Rat
Two-Faced: The DiC Entertainment continuation featured a Cobra member named Cesspool, who has one half of his face horribly scarred from falling into a vat of toxic waste.
Uncleanliness Is Next to Ungodliness: Gnawgahyde from the Dreadnoks. He believes in living off the land, and regards the falseness of civilization as a sign of weakness. Therefore, he refuses to use deodorants or cosmetics of any kind, and will not eat processed food, or wear synthetic fibers. Gnawgahyde was chased out of Africa by his fellow poachers for cheating at cards, smelling bad, and being generally obnoxious.
Urine Trouble: In the episode "Chunnel", the Queen of England's dog pees on Major Bludd.
Villain Song: The episode "Cold Slither" has the eponymous band formed by Cobra lip-synch to a rather catchy song that fits Cobra and their agenda for world domination.

We're Cold Slither! You'll be joining us soon! A band of vipers playing our tune! With an iron fist and a reptile hiss, we shall rule!

The TV movie adds an opening verse about COBRA to the show's usual heroic theme song. The lyrics aren't explicitly from the villains' POV, but the backup singers do use COBRA's Catchphrase and the lead vocal's tone is threatening.

Villains Out Shopping: When the Master of Games kidnaps several heroes and villains, he abducts the Baroness while she's relaxing in a tanning salon.
Vitriolic Best Buds: Wet Suit and Leatherneck, playing up to their Inter Service Rivalry (Wet Suit is a Navy SEAL; Leatherneck is a die-hard Marine).
The Voiceless: Snake-Eyes, when we are not given a reason for his silence.
Walking Shirtless Scene:

Dr. Mindbender, Quick-Kick, and Gung-Ho almost never wear shirts.

We All Live in America: Averted with Sparks from the Sunbow series, who was born in Carcare, Italy.

Big Ben was the token British member from the SAS.

Weapon of Choice: Some of the Joes (like Gung-Ho, Lady Jaye, and Roadblock) have one.
Weather-Control Machine: The Weather Dominator utilized by Cobra.
We Can Rule Together: After a temporary alliance of GI Joe and Cobra against a third-party mutual enemy, Cobra Commander suggests that they could wield great power working together on a more permanent basis. Predictably, he only gets mocked for it.
We Choose to Stay: Clutch, Grunt and Steeler decide to stay behind in the alternate universe to start their own G.I. Joe organization and combat the alternate version of Cobra at the end of "Worlds Without End, Part 2".
Went to the Great X in the Sky: Near the end of the episode "That's Entertainment", General Hawk makes the incorrect assumption that Jackie Love has been killed and states that he's now performing on the movie set in the sky.
What the Hell Is That Accent?:

The Baroness speaks with an accent that isn't just obviously fake, but doesn't seem to correspond to any real language. It's basically a blend of American stereotypes of Russian- and German-speaking villains.
Destro's accent is (presumably) supposed to be Scottish, but sounds nothing like it.
Most of the named Cobra villains have some more or less weird accent, though none as bad as the above. Storm Shadow talks, well, like you would expect of an 80s Hollywood ninja, and the Dreadnoks speak some kind of exaggerated Australian.

Wheel of Pain: Cobra keeps these around for no readily apparent reason.
Wicked Toymaker: In "The Gamesmaster", the eponymous Gamesmaster uses giant toy soldiers to stalk the Joes and COBRA, and toy planes to blast their aircraft out of the skies.
---
"And knowing is half the battle."
---