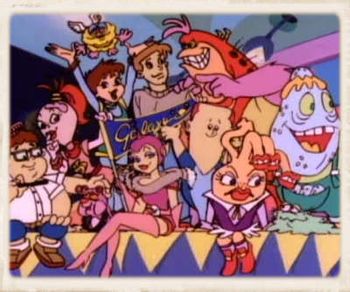 Traveling millions of miles through space
To go to school in a far-out place!
Galaxy High School was a 1986 TMS Entertainment Sitcom Saturday-Morning Cartoon on CBS. The show only lasted for one season (and the one season only has thirteen episodes). Despite its short run, the show has since become a cult favorite.
Aimee Brightower and Doyle Cleverlobe are the first earthlings to attend Galaxy High School, an intergalactic boarding school located on an asteroid called Flutor—they had previously gone to a regular human high school where Doyle (a jock) had been one of the most popular kids in school while Aimee (a bookworm who was the smartest kid in school) was at the bottom of the social ladder.
But after arriving at their new school, their roles end up being reversed:
Aimee almost immediately becomes one of the most popular kids in school at Galaxy High, not only because of her academic skills (which scores her both a scholarship and a new car) but also because of the fact that there aren't nearly as many female students as there are male students at the school.
Doyle, compared to Aimee, has a much a harder time fitting in at Galaxy High—at least partially because of the fact that sports aren't as big of a thing at Galaxy High as they were at his old high school. Unfortunately for Doyle, he can't transfer back to his old school, because his grades were so bad that going to Galaxy High is his last chance to actually graduate high school. Naturally, most episodes are about his misadventures.
The laws of physics and every other known science are broken repeatedly, and there was Mood Whiplash at times. Rule of Funny and Rule of Cool are trying to be in effect.
It was created by Chris Columbus (yes, THAT Chris Columbus) and one of the character designers was a pre-Ren & Stimpy John Kricfalusi.
Can be viewed on TMS's youtube channel
.
Contrast to the Tabletop Game Teenagers from Outer Space which is this premise but in reverse: Aliens attending human high schools.
---
Provides Examples of:
---