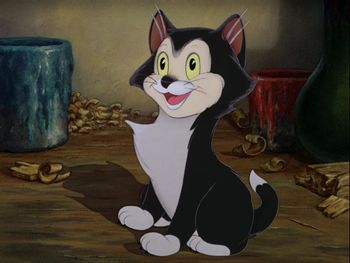 Figaro is Geppetto's mischievous pet kitten in Pinocchio. He later appears as Minnie Mouse's pet kitten in the Classic Disney Shorts, as well as the TV series House of Mouse, Mickey Mouse Clubhouse, Mickey and the Roadster Racers, and Mickey Mouse Funhouse.
Originally intending Figaro as a minor character in Disney Animated Canon feature film Pinocchio, Walt Disney took note of the cat's popularity and placed him in three shorts of his own. Figaro often acted as a rival of Pluto the Pup.
Not to be confused with the main character of The Barber of Seville or its sequel The Marriage of Figaro.
---
open/close all folders
Filmography
1943
Figaro and Cleo (one of Figaro's own three shorts)
1944
First Aiders
1946
Bath Day (one of Figaro's own three shorts)
1947
Figaro and Frankie (one of Figaro's own three shorts)
1948
Cat Nap Pluto
1949
Pluto's Sweater
---
Media Featuring Figaro:
Feature films:
Pinocchio: Debut
Mickey's Once Upon a Christmas
Television shows:
---
Tropes That Apply to Figaro:
---