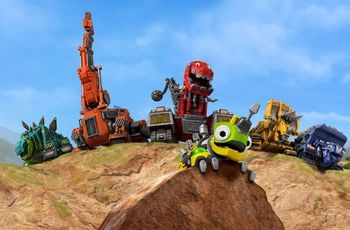 Dinotrux is a DreamWorks Animation TV show developed for Netflix based off a series of children's books of the same name by Chris Gall, making it their first property to premiere in this format.
A prehistoric world, set in the Mechazoic era, is populated by hybrid dinosaur-construction vehicles called Dinotrux, and by hybrid reptile-tools called Reptools. Two best friends, Ty, a Tyrannosaurus Trux, and Revvit, a Reptool, must team up with other inhabitants of the world to defend their fledgling community and their work from an evil Tyrannosaurus Trux, named D-Structs, who would stop at nothing to get rid of the other Dinotrux so he can have everything to himself.
On November 10, 2017 the show was retooled into Dinotrux: Supercharged, featuring the gang armed with Spark Bug Superchargers to power themselves up.
---
This show provides examples of:
---