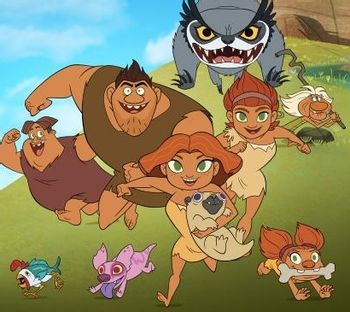 Eep: Since the first sunrise, there have been two things you can always count on: Family and change. And both can be pretty painful. Hi, I'm Eep. My family, the Croods, went through a lot of changes surviving what we called "The End". But this isn't that story. This is about "The Before", as in, before the end.
Dawn of the Croods is a 2015 Netflix show by DreamWorks Animation starring the first family, The Croods, detailing their exploits before the events of the movie, when they still lived in the company of other cave people in Aaah! Valley.
The show started out being animated in Adobe Flash, but after three episodes, the production team decided that the show would work better in traditional animation. The three flash-animated episodes were released on Netflix as-is, and possibly Out of Order (season 1, episodes 2, 4, and 9), so they stand out within the traditionally-animated episodes.
---
The Show Provides Examples of:
---