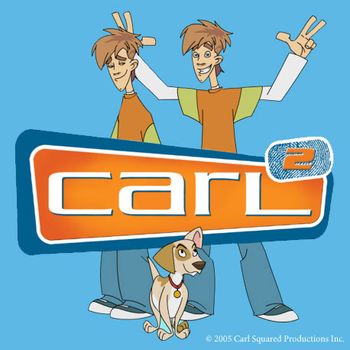 I'm stuck with myself again
My clone is my new best friend
Ever wondered how life would be if you had a clone of yourself? Why not ask this Canadian cartoon for examples?
Carl Crashman is a lazy 14-year-old who is good at only one thing: slacking. One day, he had a rough day and he was tired of doing things he hated all the time. While blogging on the Internet, he complained about his life. Hearing his request for a clone, an online cloning company sent Carl an exact clone of himself in a box. Carl named him Carl Squared or simply C2. Even if C2 looked like him, talked like him, and walked like him, C2 was more ambitious, hard working and charming, much to Carl's advantage. Since C2 arrived, Carl has been relaxing a lot more. However, C2 really always does something opposite to what Carl wants. Carl decided to keep C2 a secret from everyone else, except his best friend, Jamie James.
Produced by Portfolio Entertainment, the series originally lasted for 52 episodes over three seasons (2005–07) on Teletoon (which also commissioned and aired Portfolio's previous show Roboroach). A fourth season was made in 2008, but only aired in 2010–11, leaving the show with a total of 65 episodes.
---
The show provides examples of:
---