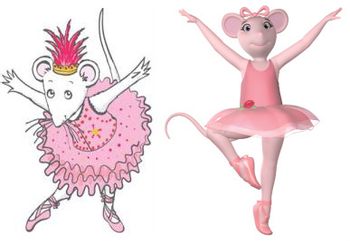 Angelina Ballerina is an Animated Series produced by HiT Entertainment, based on books by Catherine Hollabird and Helen Craig. First airing in 2001 in the UK, and the following year in the US, the series is a Slice of Life type program. It features the misadventures of a mouse named Angelina Mouseling and her friends.
In 2009, the series was given an All-CGI Cartoon makeover and subtitled "The Next Steps" as Angelina goes to attend dancing school. Angelina herself received a makeover in this version of the show: She's now light pink in color. In the original series and books, she was white.
Although the TV series is not active at this time, new books based on the franchise began publishing in or around 2020, as well as reissues of the original classics. The new books revert to a more classic look for the character, rather than the pink look seen in the CGI series.
---
Angelina Ballerina provides examples of the following:
open/close all folders
General
Book Series
Conforming OOC Moment: Played for Drama in "Angelina and Alice". When a group of older kids laugh at Angelina for pratfalling, Alice (Angelina's best friend) laughs too, leaving Angelina in tears.
Distant Finale: The very first book ends by saying that Angelina grew up to be a famous ballerina, with a final illustration showing her as an adult dancing onstage to a packed house. The many sequels and the two animated series all go back to focusing on her childhood, though.
2002 Animated Adaptation
2009 Animated Adaptation
---