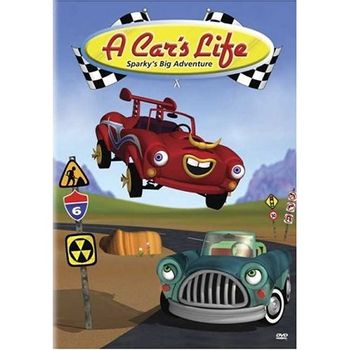 A Car's Life: Sparky's Big Adventure is an All-CGI Cartoon by Spark Plug Entertainment. It is the story (if you can call it that) of Sparky, an annoying and ugly young car who's at a "rebellious" stage of his life. From speeding to deliberately driving over potholes and using them to launch himself in the air to getting "tricked out", his antics have his father Fender at his wit's end. Diesel, a female (though she certainly doesn't look like it) WWII-era Jeep, is a bad influence on Sparky, encouraging him to trick himself out and sneak out to the movies at night, despite being grounded. But it turns out Diesel has a sinister plot at hand...
In 2012, a sequel simply titled Car's Life 2 (featuring Sean Schemmel of all people as the role of Fender) was released.
In 2013, Car's Life 3: The Royal Heist was released.
---
Tropes:
---