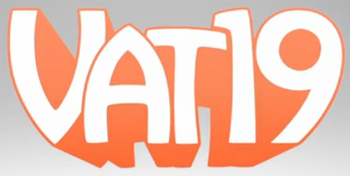 Vat19.com
is an online shopping website/company that was launched in 2001.
Vat19 began as a website to sell their own line of DVDs, the most famous of which was their ambient DVD series. In 2005, they put out their first non-DVD product: The fireplace-scented candle. It went on to become a hit with customers and encouraged them to seek out more "curiously awesome products" for them to promote and sell. They are most well-known for their witty and creative advertisements on their YouTube channel that they make to sell their products (many of which involve comedic skits), the first of which is their ad for the Grillput Portable BBQ. Aside from strict advertisements, they're also known for doing challenges and experiments with their products, many of which tend to be pushing it a little.
They also have a few other shows for entertainment. Including one destroying stuff title Break It To Make It.
Their YouTube channel can be found here
.
---
Vat19 and their collection of videos provide examples of:
---
---