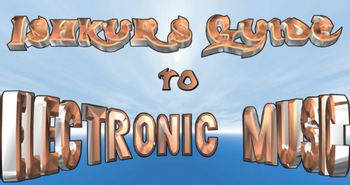 Ishkur's Guide To Electronic Music
is a guide by Kenneth John Taylor. Started in 2000, it has gone through several different incarnations, including a notable stay at Newgrounds, before ending up at Digitally Imported.
The guide begins with a brief overview of some of the equipment used in making music, and then turns into a massive web of genres and samples. One can lose hours just listening to everything. The genre descriptions themselves are extremely opinionated, and have a stated priority of entertainment over information. Also notable is the amount of hair-splitting involved, even as he criticizes promoters and artists for coming up with a plethora of genre names.
It's important to note again that Ishkur himself is highly opinionated to say the least, so it's best advised that one takes the aforementioned genre descriptions with a grain of salt.
The genres, their subgenres and the tracklist:
open/close all folders
House
Disco aka Electro Boogie
Lipps, Inc. - Funkytown
Claudja Barry - Boogie Woogie Dancing Shoes
Amanda Lear - Follow Me
Patrick Hernandez - Born To Be Alive
Patrick Cowley - Menergy
Divine - Shoot Your Shot
Sylvester - Stars
NewWave aka Electro Pop
Synthpop aka New Wave Part 2
Human League - Don't You Want Me Baby
Pet Shop Boys - It's a Sin
A Flock of Seagulls - I Ran (So Far Away)
When In Rome - The Promise
Eurythmics - Sweet Dreams
Animotion - Obsession
Ultravox - Sleepwalk
Information Society - What's On Your Mind (Pure Energy)
Italo Disco aka Italo
Miko Mission - How Old Are You
MC Brain - Loving You Forever
Hypnosis - Argonauts
Cyber People - Doctor Faustu's
Shy Rose - I Cry For You
Danise & Baby's Gang - Disco Maniac
Sweet Connection - Heart to Heart
Ken Laszlo - Hey Hey Guy
Valerie Dore - The Night
Proxyon - Beyond the Future
Synthtron aka Electroclash, Glitchcore, Nu Synthpop, Glitz, Euroclash, Synthcore, Electropop, Robotrash, Synthpunk, Futurepop, Who Knows What Else
Ladytron - Playgirl
Felix Da Housecat - Happy Hour
Golden Boy with Miss Kittin - Kuckucksuhr
Fisherspooner - Emerge
Adult. - Kick in the Chin
Legowelt - Disco Rout
Bangkok Impact - Aspirin
Jeans Team - Keine Melodien
Freezepop - Bike Thief
Dub aka Dub House
Jacob Miller - Baby I Love You
King Tubby and Soul Syndicate - Leaving Babylon
Augustus Pablo - 555 Dub Street
Lee "Scratch" Perry - Rainy Night
Mad Professor - Santero Dub
Classic House aka Chicago House
Larry Heard aka Mr. Fingers - Can You Feel It
Marshall Jefferson - Move Your Body
Steve "Silk" Hurley - Jack Your Body
Lil Louis - French Kiss
Robert Owens - Bring Down The Walls
Ecstasy - This Is My House
Mixmasters - In The Mix
Hip House
Run–D.M.C. vs Jason Nevins - It's Like That
Stereo MCs - Get Connected
House of Pain - Jump Around
Tyree - Turn Up the Bass
Jungle Brothers - I'll House You
Techno Dance aka Techno
Snap! - The Power
M/A/R/R/S - Pump Up the Volume
Technotronic - Pump Up the Jam
C&C Music Factory - Everybody Dance Now
Latour - Blue
Together - Hardcore Uproar
S'express- Theme from S'express
Utah Saints - Something Good
Progressive House
Leftfield - Open Up
The Shamen - Boss Drum
X-Press 2 - Supasong
Spooky - Schmoo
React 2 Rhythm - Intoxication
William Orbit - Water From a Vine Leaf
Fuzzy Logic - Obsession
Brit House aka UK House, English House, Not Progressive
Trisco - Muzak
Heller & Farley - The Rising Sun (Bedrock Mix)
Sven Vath - Barbella (Deep Dish Mix)
Tiny Trendies - The Sky Is Not Crying
Corvin Dalek - Young People
Satoshi Tomiie - Love Traffic
Shmuel Flash - Chilling Moments
Tungsten - Carbine
Landa - Music n Control
Dark House
Pete Lazonby - Wavespeech
Voodooamt - Nachtschicht
Vocal House aka Diva House
49ers - Touch Me
Murk vs. Kristine W. - Some Lovin'
Black Box - Ride on Time
Ministers De La Funk - Believe
Ce Ce Peniston - Finally
Foreal People - Gotta Thing
Chanelle - Work That Body
Kym Mazelle - Young Hearts Run Free
Ultra Nate - A New Kind of Medicine
Eurodance aka Europop, Euro, Club House, Handbag
Capital Sound - Desire
Acti-Vision - Let The Rhythm Take Control
Emjay - Take Me (In Your Arms)
Ybz - Now That I Found You
Corona - Baby Baby
Reset - Wings of Love
Roxxy - I'll Never Stop
Antares - Ride On a Metorite
Maxx - Getaway
Happy House
Vegaboys - Skinnydipping
Miss Papaya - Sugarboy
Aqua - Roses Are Red
Hit 'n' Hide - Space Invaders
Tempo - Everyone Get Up
Smile.dk - Butterfly
Nu Italo Disco aka Nu Italo
Consilio - Take My Heart
Funny - Sing a Song
Alicia - Open Your Eyes
Blockhouse - Disco Hit
Becca - Come and Get My Love
Gigi D'Agostino - Star
Natasha Hagen - Que Sera
Prezioso - Let's Talk About a Man
Sarina Paris - Just About Enough
JPop aka Shibuya-Kei
Ayumi Hamasaki - Trust
Hirokai Anzai - Reality
Masami Okui & Megumi Hayashibara - Sleepless Night
More - Overdrive
Tommy february6 - Everyday at the Bus Stop
Max - Give Me a Shake
Yukari Fresh - Yukarin' Disco
Megumi Hayashibara - Breeze
Dream - Heart on Wave
Eurobeat
Dee Dee Wonder - Darkmoon Fighter
Nick Mansell - Stop Lookin' Back
Mac Coveri - Running in the 90's
Dave Rodgers - Grand Prix
Black Eva - Turn the Beat Around
Live Music Gang - This is Para Para
Nikta Jr - Dancing In the Jungle
Princess F - Technotronic Flight
Tam Arrow - One Shot Girl
Anthem House aka Stadium House, Arena House
Faithless - Insomnia
Sash - Encore un Fois
The KLF - What Time is Love?
2 Unlimited - Twilight Zone
The Immortals - Techno Syndrome (Mortal Kombat: The Movie)
Epic House aka "Dance Mix"
Mike Oldfield - Moonlight Shadow (Stupid Dance Mix)note
a-ha - Take on Me (Stupid Dance Mix)note
Bryan Adams - Heaven (Stupid Dance Mix)note
Don Henley - Boys of Summer (Stupid Dance Mix)note
Duran Duran - Ordinary World (Stupid Dance Mix)note
Garage aka New York House
Aly-Us - Follow Me
Masters at Work - I Can't Get No Sleep
NYC Peech Boys - Don't Make Me Wait (Larry Levan Mix)
Blaze - If You Should Need a Friend
Change - A Lover's Holiday
Crown Heights Affair - Dance Lady Dance
New Jersey Connection - Love Don't Come Easy
Oliver Cheatham - Get Down Saturday Night
Speed Garage aka The Worst Music in the World
Double 99 - Ripgroove
187 Lockdown - Gunman
Buzzy Bus - Jump
Mr. Spring - Voyager 1.56
Praxis feat. Kathy Brown - Turn Me Out
Northbank - Musicw
Tribal House aka Tribal
Dubtribe Soundsystem - Hasta Luego Mi Hermano
DJ Jeno - The Bone
H-Foundation - Homegrown
Kao - Pressure (Undisputed Truth Mix)
Papacha - Sentossa
The Goodmen - Give It Up
Acid House aka Acid, Oldskool Acid
Phuture - Acid Trax
D-Mob - We Call It Acieed
Fast Eddie - Acid Thunder
Miss Nicky Trax - Acid in the House
Bam Bam - Where's Your Child?
Bobby Konders - Nervous Acid
Deep House aka Jazz House
Second Shift - Somethin' Else
Kevin Yost & Peter Funk - Dreams of You
Sixteen Souls - Late Night Jam
Blue Six - Music & Wine
Aaron Carl - My House
Miguel Migs - Petalpushing
Moodymann - Mahogany Brown
The Ruals - Make Amends
Terry Lee Brown Jr. - Terry's House
Funky House
Avalanche - Acid Attack
Ian Pooley - What's Your Number
DJ Sneak - Fix My Sink
Meccaheadz - Nightskool
Fab Four - Last Night a DJ Blew My Mind
Angel Alanis - Funkmaster
Basco - Music With a Feel
Mi Presents Neon Lights - House of Funk
DJ Roog - Funk Three
Latin House
2 DJ's At Work - All Night Is Party Time
Afro Angel - Join Me Brother
Mambana - Libre
Dimitri & Tom - Brazil Over Zurich
Disco House aka Gay Disco House
Conga Squad - Cool
Aldo & Felipe - Best of Me
Boogie Tunes - Takin' You Down
C-Mos - Young
DJ Flex - Love For U
DJ Ionic - Disco Mania
Junior Jack - My Feeling
Phats & Small - Turn Around (Olav Basoski Mix)
Terrence Parker - Pure Disco
French House aka Filter House, Telfunk
Stardust - Music Sounds Better With You
Thomas Bangalter - Colossus
Together - So Much Love to Give
Cosmos - Take Me Eith You
Sebastien Leger - We Are
Alan Braze - Vertigo
The Ones - Flawless
Dave Armstrong - Make Your Move
Tech House aka Techno-House
Laurent Wolf - Pump it Up
Chris Doria - Busrider
Gene Farris - Go Bump In the Night
Casey Hogan - Uncut
Dave Aude - Push That Thing
Hard House aka Real Hard House, Chicago Hard House
George Centeno - Check This Out
DJ Bam Bam - Blow Your Mind
Mark V and Poogie Bear - War
Noise Makers - Don't Stop
Jack-N-House - A Man With a Horn
Juan V - House is the Way of Life
Kevin Halstead - Mix Masta
Louis love - Jedi Raver
Rick Garcia - Grind Remix
Booty House aka Parental Advisory: Explicit Lyrics
DJ Isaac - Face Down Ass Up
DJ Funk - Da Booty Perk-U-Later
DJ Funk - Let Me Bang
DJ Funk - Hold Up
DJ Funk - Pop Them Thangs
DJ Funk - Pump It
Microhouse aka Minimal House, Glitchy Tech House
Akufen - New Process
Farben - Beautone
Losoul - Synchro
Matthew Dear - Another
Pantytec - Does Ronda Know
Ricardo Villalobos - Frank
Fotec Foyamat - Lumiere
Yomgaille - There
Stupid House aka Party House, UK Hard House?!?!? Good God, No
Klubbheads - Kickn' hard
Lisa Lashes - Lookin' Good
Lock 'n' Load - Blow Ya Mind
DJ Jean - The Launch
Junkfood Junkies - Hands Up
Jonesy - Independence
Alex K - Pump It Up
666 - The Devil
Porn Kings - Up to No Good
Trance
Industrial
Darksynth
Beborn Benton - Another World
Daf - Der Mussolini
Skinny Puppy - Assimilate
Wolfsheim - The Sparrows and the Nightingales
Cabaret Voltaire - Sensoria
Industrial Experimental aka Experimental Industrial
Coil - Red Skeletons
Controlled Bleeding - Tormentor's Song
Esplendor Geometrico - Belew
Grindlock - Frantic
Dark Wave aka Electro-Goth, Industrial Goth
Deine Lakain - The Night of Love
Clan of Xymox - Strangers
London After Midnight - Kiss
Switchblade Symphony - Dollhouse
Cruxshadows - Clrestory
Black Tape For A Blue Girl - I Have No Answers
Mors Syphilitica - Dreams of the Many
Cocteau Twins - Millimillenary
Coldwave
Hate Dept - Master and Servant
Acumen Nation - Ventilator
Die Krupps - Isolation
Chemlab - Jesus Christ Porno Star
Cubanate - Oxycetylene
Industrial Rock aka Industrial Metal
EBM aka Electronic Body Music, Industrial Dance
Front 242 - Motion
Assemblage 23 - Love My Way
Front Line Assembly - Mindphaser
Bigod 20 - America
Cyberaktif - Black & White
Electric Hellfire Club - Incubus (Leather Strip Mix)
Nitzer Ebb - Murderous
And One - Techno Man
Electro-Industrial aka Agro-Industrial, Post Industrial
Haujobb - Rising Sun
In Strict Confidence - Stripped
Informatik - Nightlife
New Mind - Love Missile F1-11
Suicide Commando - Cause of Death Suicide
Velvet Acid Christ - Pretty Toy
Wumpscut - Wulf
Funker Vogt - Wartime
Hocico - Bloodshed
Futurepop aka Futuresynth, Industrial Synthpop
Icon Of Coil - Former Self
VNV Nation - Dark Angel
Apoptygma Bezerk - Spiritual Reality
Decoded Feedback - Ragescape
Melotron - Erwartungen
Covenant - Call The Ships To Port
Aghast View - Deviance
Neurotic Fish - Velocity
HI NRG
Berri - Sunshine After The Rain
Sunscreem - Love U More
Sparks - Music That You Can Dance To
Dead or Alive - Lover Come Back To Me
Jimmy Somerville - You Make Me Feel
Berlin - Sex (I'm A Slut)
Bobby Orland - Whisper To a Scream
Classic aka Trance
Age of Love - Age of Love
Cosmic Baby - Magic Cubes
Commander Tom - The Vulcan
Resistance D - Cosmic Love
Datura - Yerba Del Diablo
Emmanuel Top - Acid Phase
Dance 2 Trance - We Came In Peace
Spicelab - Amorph
Underworld - Thing In a Book
Acid Trance aka Acid
Psychobabble - Inverted Forces
Electric Skychurch - Deus
Hardfloor - Acperience
Renegade Legion - Weeping Waste
Union Jack - Red Herring
Art of Trance - Deeper Than Deep
Awex - It's Our Future
Balil - Parasight
Goa Trance aka Hippie Trance
Man With No Name - Teleport
Cybernaut - Hydroponics
Cyndonia - Animals
Ominus - Acid Tester
Astral Projection - Mahadeva
Shakta - Lepton Head (Deedrah Mix)
Solar Plexus - Crystal Forest
Trilithon - Trance Dance
Caunos - Herzsprung
Psychedelic Trance aka Psytrance, Psychedelic Goacore
Man Made Man - Drama
Pleidians - Jungle Trax
GMS vs Alien Project - One Good''
The Delta - Travelling At The Speed Of Thought
Blue Vortex - Tranceluzid Horizon
Process - Internal Horizons
Penta - Neurotic Call
Digital Talk - New Age Surf
Infected Mushroom - Acid Killer
Buttrock Goa aka Heavy Metal Goa
Sun Project - At the Edge of Time
Infected Mushroom - None Of This Is Real
Dark Soho - Combustion
Johann - Stranded (Delta Mix)
Indica - Rock n Roll
1200 Mics - Acid or Nothing
Four Carry Nuts - Halogen
Xenomorph - Killer State
Analog Pussy - Trance n Roll
Psytekk aka Minimal Psytrance, AUGH!!!!!!!
Aphid Moon - A Lot of Radio
Necton - There Ain't No Answers
Ticon - We Are the Mammoth Hunters
Spirallianz - Sidewinder
Parasense - Iron Punk
Cosma - Human Evolution
Synthaik - Arcturus
Yumade - Bass is Bass
Death Trance
Synergy - World of Bassline
Dark Trance
De Niro - Mind of Man
Omar Santana - Raver's Damnation (Deepsky Mix)
Anne Clark - Our Darkness (Total Eclipse Mix)
Trancesetters - Roaches
Plastic Angel - Hardwired
Eric Prydz - Deeper Still
Fascinated - Totally Facinated
German Trance
Modo - Gema Tanzen
Overcharge feat. G-Meter - Paddyman
Code-28 - Feel My Desire
DJ Gollum - Action
Gary D - Timewarp
DJ Yanny - Initialize
Nostrum - Monastery
D-Fense & Confusion
Hard Acid Trance
DJ Misjah & DJ Tim - Access
Overrider - Time Bomb
Jeremiah - Exotic Intercourse
Demonic Emotions - Stuck on a Space Trip
Voodoo & Serano - Blood Is Pumping
Jon the Dentist - Global Phases
Interrupt - Upside Down
Wippenberg - Neurodancer
NRG aka Nu NRG, Hard NRG, Hard Dance
BK & Nick Sentience - Noise
Fergie & BK - House of Pain
OD404 - Bad Mothafucka
Cortina - Higher
Chris C - Get on the Floor
Captain Tinrib - Acid Pandemonium
Vinylgroover & The Redhead - Move Your Body
Steve Thomas - Higher
Lab 4 - Bardig
Hard Acid
Bean vs Cyrus - Thunder in Paradise
Cosmic Gate - The Truth
Yoji Biomehanika - Bangin' Globe
Space Frog - Follow Me
Hennes & Cold - The Second Trip
Embargo - Blackout
Cinderella - The Realm
Ernasto vs Bastian - Who is the Starter
Trance Generators - Never in Danger
Hardstyle aka Really Hard Trance, Hard Dance
Blutonium Boy vs DJ Neo - Hardstyle Nation
DHHD - Funky Shit
High Voltage - Bombs Away
Hi-Skool - Summer Nights
Mindcontroller - King of the Beats
Pavo & Zany - Shutterspeed
Southstylers - E-Town
The KGBS - Techno Gym
Walt - Wanna Fuck
Booty Trance??? aka Ghetto Trance???
Lectrolux - The House Is Surrounded
Symphonic Trance aka Something Else?
Brain Bug - Rain
Taste Experience - Summersault
Crescendo - Are You Out There
Yomanda feat. Emma Shapplin - Spente Le Stelle
Progressive Trance aka Progressive House???
CM - Dream Universe
Three Drives On A Vinyl - Greece 2000
LSG - Netherworld
Lost Tribe - Gamemaster
Andy Ling - Fixation
BT - Flaming June
Tekara - Breathe In You
Sasha - X Pander
Spacepunks - Another Space (Pussy 2000 Mix)
Tribal Trance aka Tribal
Parks & Wilson - My Orbit
Tarantella - Karma
Etnoscope - Sunrise
Indart, Colors & Legaz - Remember The Past
Head Honcho - Medicine
Indat, Chus & Ceballos - Momentos Oscuros
Ibiza Trance aka Balearic House
Chicane - Offshore
Miro - Paradise
Solar Stone - Seven Cities
ATB - Underwater World
Nalin & Kane - Beachball
Jam & Spoon - Stella
Fathers of Sound - Water
Humate - Love Stimulation
Dream trance aka Dream House
Robert Miles - Children
DJ Dado - Dreamscape
DJ Panda - Forever Young
DJK - I Like Chopin
Imperio - Atlantis
Nylon Moon - Sky Plus
Zhi-Vago - Feel My Love
The Cynic Project - Trance Generation
WP Alex Remark - Pyramid
Epic Trance aka Uplifting Trance, Euphoric Trance, Emotional Trance, Pop Trance, McTrance, Euro Trance
Ian van Dahl - Castles In the Sky
Kaystone - Atmosphere (Angelic Mix)
Ayla - Ayla Part II
Alice Deejay - Better Off Alone
Fragma - Everytime You Need Me
Paul van Dyk - For An Angel
The Thrillseekers - Synaesthesia
Kamaya Painters - Endless Wave
Vincent de Moor - Fly Away
Anthem Trance aka McTrance, Stadium Trance, Arena Trance
Cascade - Transcend
Steve Morley - Reincarnations
Agnelli & Nelson - El Nino
Pulp Victim - The World
DJ Tandu - Velvet
Transa - Transtar
Sunflower - Cold Turkey
Flutlicht - Icarus
The Generator - Where Are You Now
Dutch Trance aka Super Saw Mega Trance, Fake Trance
Rank One - Airwave
Human Evolution - Project Magenta
Scot Project - Overdrive
System F - Exhale
DJ Tatana - Words
Pervading Call - Destiny
Envio - Touched By The Sun
4 Strings - Daytime
Dumonde - God Music
Breaktrance
Hybrid - Finished Symphony
General MIDI - Further
Starecase - Faith
Christian J - Understand
Tech Trance aka Techno Trance
Breeder - The Chain
Timo Maas - Riding On a Storm
Steve Porter - Mindless
Marco V - Indicator
Agoria - Radio City
Brian Zentz - Algebra
Christian Morgenstern - Hawaii Blue
Der Drutte Raum - Hale Bopp
Deep Trance aka Housey Trance... or Trancey House
Blue Amazon - And Then The Rain Falls
The Fact - Contact
Ashtrax - Digital Reason
Quirk - Soft Focus (Hyperion Mix)
Sunday Club - Eterna's Flight
Excession - Affected
Alexander Kowalski - Belo Horizonte
Dominion - II Hours
Techno
Classic Techno aka Detroit Techno
Cybotron - Clear
Model 500 - Future
Channel One - Technicolor
Dopplereffekt - Superior Race
Model 500 - No UFOs
Detroit House aka The New Dance Sound of Detroit !
Rhythm is Rhythm - Strings of Life
Blake Baxter - When We Used To Play
Eddie Fowlkes - Goodbye Kiss
Kreem - Triangle of Love
Suburban Knight - The Art of Stalking
Inner City - Big Fun
VGM aka Chiptunes, Video Game Music, Nintendo
Golden Shower - Video Computer System
Nullsleep - Her Lazer Light Eyes
Patrick Phelan - Top Gear - Track One (SNES)
David Whittaker - Lazy Jones
The Slows - Rave til Noon
Casiocore aka Push The 'Demo' Button On Your Keyboard
Stereo Total - Ushilo Sugata Ga Kilei
Casiotone - For The Painfully Alone
Atom & His Package - Where Eagles Dare
Detroit Techno
Jeff Mills - The Bells
Oscar Mulero & Jeff Mills - Cyclone
Underground Resistance - Adrenalin
Carl Craig - Dreamland
Kenny Larkin - Soul Man
Damon Wild - Aqua
Euro Techno
Hard Techno aka Hardcore Techno, Tekno, Teknival
Spiral Tribe - Crystal Acid
Banditos - Walded
Fky - Alpoto
Metek - Fonction Radicale
Network 23 - Probably Taking Drugs
Punk Floyd - Can't Breath
German Techno
Andreas Kramer & Thomas Pogadl - Der Racher
Chris Liebing - Conan
Pacou - Iron City
Technasia - Force
Scion - Arrange and Process 7
Richard Bartz - Ghetto Blaster
Thomas P Heckmann & Mark Romboy - Ultra Vixens
Thomas Schumacher - The Simpleton
JTek aka J Techno, Japanese Techno
Ken Ishii - Extra
Fumiya Tanaka - Phase
Takkyu Ishino - Polynasia
Rumenige feat. Loktibrada - Bandaska
Takaati Itoh - Tap
Swedish Techno
Adam Beyer & Joel Mull - The Advent Remake
Adam Beyer - Drum Code
Ben Sims - Eroticon
Thomas Krome - Bitches From Hell
Cari Lekebusch - Planet of Drums
Archeae & Grovskopa - Spark
Latin Techno aka LTech?
Max Walder - Samba Del Costa
Monika Kruse - Latin Lovers
Tomaz vs Filterheadz - Los Hijos Del Sol
DJ Preach - No War In The Summer
Italian Techno aka Italo Techno
Gaetano Parisio - Ritmatica
Joy Kitikonti - Joyenergizer
Massimo Cominotto - Eroi De Carta
Mauro Picotto - Baguette
Marco Carola - Hypnotisanus
Danilo Vigorito - Phlex
Bagin' Techno aka Bumpity Bumpity Boom
Frankie Bones - Get This STR-8
Richie Hawtin - Orange/Minus 2
Mateo Murphy - First Impressio
CJ Bolland - The Tingler
Speedy J - Electric Deluxe
Tribal Techno aka Tribal
Peace Division - Feel My Drums
john Acquaviva - More Percussions
Rhythm & Kane - Feel the Drums (Tony Thomas Mix)
Papacha - Benimussa (Chus & Ceballos Mix)
Kev Wright - Getting Closer
Boriqua Tribez - Punto
Cave - Streetcarnival
Industrial Techno
Asche - Mindbomb
Hypnoskull - 10 Seconds Left
Punch Inc. - Desert Storm
Acid Techno aka Acid
Acid Scout - 4 Degrees
Fuzz Face - New Friends
Woody McBride - Basketball Heroes
Miss Djax - Evil Machines
Dave the Drummer - Shudder & Twitch
Tesox - Funky Bassline
Choice - Acid Eiffel
Hard Acid aka Acid, Filthy Acid Techno
Solar Quest - Acid Air Raid
Chris Liberator & The Geezer - 303 Power
Lochi - London Acid City
The Geezer & Choci - Monomadness
Ascorbin Acid - Sweet Liberty
DDR & The Geezer - Mad Cows On Acid
Gamma Loop - Eclipse
Rebel Yelle - Affirmation
Adam Starr - Bad Acid Jesus
Minimal Techno
Mike Ink - Orange
Safety Scissors - Fridgelife
Sutekh - Untitled
DJ T-1000 - Thesis
Basic Channel - Octaedre
James Ruskin - The Divine
Micheal Mayer - Pensum
Deep Techno
Monolake - Index
Lumo - The Right Wing
Aril Brikkha - On & On
Altitude - Further
Gloomcore
Green Velvet - Genedefekt
The Horrorist - Mission Ecstasy
Green Velvet - La La Land
The Horrorist - One Night In NYC
Dub Techno aka Techno-Dub
Maurizio - El 7
Kit Clayton - Material Problem
Thomas Feglmann - Making It Whistle
Experimental Techno
Si Beg - Test Tube Baby
Neil Landstrumm - Takks
Christian Vogel - Puss
Breakbeat
Hip-Hop aka Rap
The Sugarhill Gang - Rapper's Delight
Kurtis Blow - Don't Stop The Body Rock
Ultramagnetic MCs - Give The Drummer Some
Maestro Fresh-Wes - Let Your Backbone Slide
Electro aka Electropop, Robot Pop, Technopop
Kraftwerk - Radioactivity - Radio Activity
Afrika Bambaataa - Planet Rock
Freestyle - It's Automatic
Mantronix - Needle To the Groove
The Alliance - Action
B.O.S.E. - Rockin' To the Beat
Jonzun Crew - Pac Jam
Newcleus - Jam On It
Electro Funk
Zapp - More Bounce To The Ounce
George Clinton - Atomic Dog
One Way - Cutie Pie
Laidback - Ride The White Horse
Roger - So Ruff, So Tuff
Edwin Birdsong - Cola Bottle Baby
Funkadelic - Electro-Cuties
Vaughn Mason & Crew - Bounce, Rock, Skate, Roll
Rick James - Bad Mamma Jamma
Freestyle aka Electro Dance
Alizee - Fantasy Love
Angelique - Aiming Straight For Your Heart
The Cover Girls - Don't Stop Now
Lil Suzy - We'd Always Be Together
Wickett - I Want You
Jocelyn Enriquez - A Little Bit Of Ecstasy
Rockell - In A Dream
Debbie Deb - I Wanna Dance
Shannon - Let the Music Play
Nu Electro aka Neo Electro
Jedi Knights - May the Funk Be With You
Anthony Rother - Red Light District
Industrial Bass Machine - The Voice of World Control
I-F - Space Invaders Are Smoking Grass
Drexciya - Bubblemetropolis
Dynamix - Ignition
Ural 13 Diktators - Disko Kings
Turntablism aka Scratching
DJ Q-Bert - Razor Blade Alcohol Slide
Mix Master Mike - Supa Wyde Laces
Kid Koala - Fender Bender
Cut Chemist - The Periodic Table
Progressive Hop aka Underground Hip Hop, Alternative Hip Hop
Abstract Hip Hop aka Experimental Hip Hop
Coldcut - Timer
DJ Food - Turtle Soup
DJ Vadim/Herbaliser - Conquest of the Irrational
DJ Signify - Propaganda
Blockhead - Triptych Part One
Hexstatic - Ninja Tune
East Coast Rap
West Coast Rap
G-Funk aka West Coast Gangsta Rap
Dr. Dre - Fuck Wit Dre Day
Snoop Doggy Dogg - What's My Name
2Pac - California Love
Above The Law - Black Superman
Tha Dogg Pound - Let Me Ride
Thug Life - Pour Out A Little Liquor
Coolio - Fantastic Voyage
Kurupt - Neva Gonna Give It Up
New Jack Swing aka Swingbeat, Urban, R&B
Bell Biv DeVoe - Poison
En Vouge - My Lovin'
Salt 'N' Pepa - Let's Talk About Sex
Milli Vanilli - Girl You Know It's True
Toni Braxton - You're Making Me High
Tony Toni Tone - My Ex-Girlfriend
Blackstreet - No Diggity
TLC - Waterfalls
Boyz II Men - End of the Road
2 Step Garage aka UK Garage, Brit Garage
The Artful Dodger feat. Craig David - Something
Dajae feat. E-Smoove - Time
MJ Cole - Sincere
Architechs feat. Nana - Body Groove
Amira - My Desire
The Streets - Let's Push Things Forward
Second Protocol - Basslick
So Solid Crew - Nasty
Dru C - Dub Plate Style
Funky Breaks
Propellerheads - Take California
Sensei - Pimp Slap the Funk
Sol Brothers - That Elvis Track
Sedona - Coast
Renegade Soundwave - Thunder
Plump DJs - The Funk Hits the Fan
Tribal Breaks aka Tribal
Rhythm Method - Sorrow
Planet Funk - Inside All the People
Lee Coombs & Meat Katie - Two Men on a Trip
Acid Breaks aka Acid
Josh Wink - Higher State of Consciousness
Funky Robots - TB303
Dave London - Get Down Tonight
Kingsize - Acid or XTC
Thursday Club - A Place Called Acid
Simon - Two Crates
Southside Reverb - Reverberation
DJ Voodoo vs The Liquid Method - Everyone Thinks I'm High and I Am
Chemical Breaks aka West Coast Breaks
Uberzone - Botz
Crystal Method - Busy Child
DJ Friction & Spice - You Make Me Feel So Good
Electroliners - Loose Caboose (Bassbin Twins Mix)
Stish - Pack of Reds
Big Beat aka Amyl House, "Electronica"
Chemical Brothers - Elektrobank
Fatboy Slim - Illuminati
Wildchild - Renegade Master
The Prodigy - Smack My Bitch Up
Cirrus - Break In
Overseer - Supermoves
Anthem Breaks aka Stadium Breaks, Arena Breaks
Kay Cee - Escape
DJ Infiniti - Running Away
Terra Skye - Is This Love
Music Instructor - Supersonic
Dirty South aka South Rap, Booty Rap, Booty Bass
2 Live Crew - Pop That Pussy
Sir Mix-A-Lot - Baby Got Back
Freak Nasty - Da Dip
Splack Pack - Shake That Ass Bitch
Soundmaster T - 2 Much Boot (In The Pants)
Too Short - I Luv
Wreckx-N-Effect - Rumpshaker
Gucci Crew - That Girl
Crunk aka YEEAAAHHH!! OKAAAY!! WHHHAT!!
A-Team feat. Lil Jon - What Dey Gon Do
Lil Jon & The Eastside Boys - Get Low
Ludacris feat. Mystikal - Move Bitch
Mystikal feat. Method Man - I Get It Started
Three 6 Mafia feat. Lil Flip - Ridin' Spinners
Lil Scrappy feat. Lil Jon - That's Nasty
Ghetto Tech aka Techno Bass
DJ Assault - Ass n' Titties
DJ Godfather - Player Haters In This House
DJ Assault - Asses Wigglin'
Disco D - You Need Another Drink
DJ Godfather - Get Yo Jit On
DJ Nasty - Tongue Bath
Miami Bass aka Bass Music, Party Rap
DJ Magic Mike - You Want Base
69 Boyz - Tootsee Roll
Quad City DJs - Space Jam
Tag Team - Whoomp! There It Is
95 South - Rodeo
Uncle Al - Slip 'n Slide
Rio Funk aka Funk Balls, Brazilian Rap
As Meninas - Tapinha
MC Serginho - Eguniha Pocoto
Furacao - Ta Tudo Dominado
Florida Breaks
DJ Icey - Ease the Beat Back Up
Fluppy - Blue Horizon
DJ Icey - Bass Electrix
Rick West - Metamorphose (DJ X Mix)
Paul Rubin - Party Going On
Baby Anne - Fury
DJ Huda Hudia & Tony Faline - Don't Stop
Tony Faline - Feel the Funk
Nu Skool Breaks aka Nu Breaks, UK Breaks
Junkie XL - Take the Red Pill, Take the Blue Pill
Freq Nasty and Dee Kline - Every Posse & Crew
Tipper - Twister
Blim - Chronologic
Exile - Neuroscan
Ils - Requiem
Stanton Warriors - Da Virus
Dark Breaks
Tanith - Bronco
Tsunami One - Number 43 With Steamed Rice Please
Wizard of Oh - Off To Demention X
Progressive Breaks aka Pretentious Breaks
Burufunk - Welcome To the Real World
BT - Fibonacci Sequence
Way Out West - Mindcircus
Kidneytheives - Placebo (Terminalhead Mix)
Digital Witchcraft - Kaylee's Blanket
Momu - The Dive
Petter - These Days
Jungle
Ragga Jungle aka Dancehall Jungle
Barrington Levi - Under Mi Sensi (X-Project Mix)
Shy FX & UK Apache - Original Nutta
Remark - Sound Murderer
Bounty Killer & Beenie Man
Congo Natty - Wardance
Frankie Paul & Buju Banton - Bring Your Body
Tribe of Issachar - Champion Natty
Freestylers - Warning
M-Beat feat. General Levy - Incredible
Jungle
Omni Trio - Renegade Snares
Droppin' Science - Droppin' Science Vol 1
Krome & Time - The License
DJ Trace - The Lost Entity
Origin Unknown - Valley of Shadows
Hyper On Experience - Lords of the Null Lines
DJ Rap - Digable Bass
Drum n Bass aka Drums and Basses
Photek - Knight Vision
Grooverider - On the Double
DJ Krust - Warhead
Decorder & Substance - Hazard
Juj & Calibre - Koka Remix
Baron - Meet the Creeper
Nightwalker - Head Nod
Capone - Flow
Jump Up
Aphrodite - Jungle Brother
Rockerfella - As We Always Do
Mulder - The Hard Way
Majistrate - Prohibited
Aphrodite - The Bomber Style
Neurofunk aka Futurestep
Stakka & Skynet - Violent Extremes
Psion - Reverse Engineering
Teebee - Meteron
Black Sun Empire - Firing Squad
Kraken - Illusions
Wrisk - Diced Turkey
Synthetix - Lockdown
Trancestep aka Electrostep
John B - American Girls
Concord Dawn - Morning Light
Raiden - Fallin'
Plexus - Speedfreak
Cydefx - Timescape
John B - Celebrity
Sta & Paul B - Secrets Inside
Counterstrike - V
Jazzstep aka Jazzy Jungle
Goldie - Timeless
EX Rollers - Tough at the Top
Amorphouse - Sidestepper
Roni Size Reprazent - Brown Paper Bag
DJ Pulse - Planet Funk
Marcus Intalex & St Files - Nightfall
Carlito & DJ Addiction - Supergrass
DJ Markey feat MC Stamina - It's the Way
Uncut - Midnight
Liquid Funk aka Disco Jungle?
Hatiras - Space Invaders (J Majik Mix)
Calibre - Jane's Twitch
High Contrast - Return of Forever
London Elektricity - Different Drum (Nu:Tone Remix)note
Nu:Tone - Our House
Atmospheric aka Ambient Jungle, Trip Jungle
Blame - Alpha:7
Lamb - Gorecki (Global Communication Mix)
LTJ Bykem - Horizons
Morcheeba - The Music That We Hear (Omni Trio Mix)
Apollo 440 - Vanishing Point
Oldskool Rave Hardcore aka Rave, Toytown
DJ Sy - The Chain
The Prodigy - Your Love
Acen - Trip II the Moon
DJ Red Alert & Mike Slammer - Fucking Hardcore
N-Trance - Set You Free
Smart E's - Sesame's Treat
Arling & Cameron - We Love Dancing
Jimmy J & Cru-L-T
Darkcore aka Darkside
Q Project - Champion Sound
DJ Hype - Weird Energy
Ray Keith - Terrorist
Hardstep
Dred Bass - Technology
Ice Minus - Clones
Abstract - The Message
Biostacis - Gamma Ray
Resonant Evil - Slingshot
Capone - Tudor Rose
IQ Collective - Mode One
Techstep
Jonny L - Piper
Ed Rush & Optical & Fierce - Alien Girl
Bad Company - The Nine
Ganja Kru - Politrix
DJ Hidden - Skektics
Panacea - Motion Sickness
Eye-D & Kid Entropy - Wireless
Darkstep
Dieselboy - Invid
Usual Suspects - Synapse
Dillinja and Lemon D - Grimey
Technical Itch - The Rukus
Dom & Roland - Dynamo
DJ Trace - Mutant Revisited
Faith in Chaos - Possession (Kemal & Rob Data Mix)
Leon Switch - Lucky Star
Rawthang - Beautiful Morning
Industrial DnB aka Industrial Drum n Bass
Detritus - Equilibrium
Dryft - XII
Experimental Jungle aka Experimental, Drill n Bass
IDM aka "Intelligent" "Dance" "Music", Artcore
Amon Tobin - Back from Space
Autechre - Acroyear 2
Plone - Tricky Disco
Bauri - Machina
Cim - Typical
Hrvatski - Incest Digestion Melancholy
Stock, Hausen and Walkman - V.A.
Mouse On Mars - Tux and Damask
Glitch aka CD Skipping, Glitchcore
Kid 606 - Dodgy
DJ Rupture - High Resolution, Heat Sensor
Cex - At Least I Can Say I Tried
Electric Company - As Am I
Random Inc. - Losing Touch
Station Rose - Smoother Than Strange
Twerk - Inorganic Clarity
Fax - Danz
Hardcore
New Beat aka Belgian New Beat
Lords of Acid - I Sit On Acid
101 - Rock To The Beat
The KLF - It's Grim Up North
Public Relations - Eighty Eight
Amnesia - Ibiza
Confetti's - The Sound of C
Major Problem - I Still Have a Dream
Power Electronics aka Power Noise
Brighter Death Row - Oh What a Night
Converter - Blast Furnace
Imminent Starvation - Self Destruct
Whitehouse - Why You Never Became a Dancer
Winterkalte - Maximum Credible Accident
Merzbow - Catch 22
Iron Justice - Nothing and Nothing Again
Nod - And Into Flesh I Shall Return
Noizecore aka Breakcore, Noize, Drop a Cat On the Equipment
Venetian Snares - All The Children Are Dead
Devil Chan - Music Fighter
Speedranch vs End - Tea
Navicon Torture Technologies - The Last Day
Government Alpha - Cryptic Cave
Terrorcore aka Doomcore, Evilcore, Deathcore
Delta 9 - Real Hardcore
Alcore - Evil Church
Androgyn Network - Cannibalistic
D'Spyre and Hamunaptra - Threebond of Consent
Nordcore G.M.B.H. - Now
Digital Hardcore
Atari Teenage Riot - Start the Riot
EC8OR - I Don't Want To Be Part of This
Bomb 20 and Lawgiver - Basssssssssssss
Shizou - Sweat
Speedcore
Hell's Army - Speedcore Shit
Disciples of Annihilation - N.Y.C. Speedcore
DJ Tron - Death
DJ Universe - Speedcore Mix B
Ricardo - Only DJ Noisekick Will Survive
Gabba Front Berlin - Speedcore Lacrima
The Destroyer - Anytime
DJ PW - Push the Funk
Metalcore
Riot Squad - Nonshlen Tustokken
Fear Factory - T-1000
DJ Skinhead - Xtreme Terror
Speedbass
DJ Tendraw and The Gypsies Dog - Vocal Tripe (I'm Gonna Hurt You Mix)
Prometheus Burning - Hurt
Vbr - Odetolngbuildshtypeaksc
Meatsock - Detention Sex
Bathyst - Biotron Tanaka
Gabber aka NY Style Hardcore, Hardcore
DJ Promo - Madman
Matrix and Wargroover - Yeah
The Prophet and Omar Santana - Power Pill
Ron D. Core - My Computer
Hellfish - Seriously Evil Shit Mission 3
Pariah - ID
Rave aka Hardcore
Channel X - Rave the Rhythm
Second Phase - Mentasm
LA Style - James Brown Is Dead
Altern 8 - Activ 8
Human Resource - Dominator
Messiah - Temple of Dreams
T99 - Anastasia
The Hypnotist - Hardcore You Know the Score
U96 - Das Boot
Rotterdam aka Gabba, European Hardcore
Masters of Hardcore - Bring the Pain
DJ Nosferatu - The Prayer
DJ Radium - Power Surgeon
Mindcrimers - Reality
DJ Rob and Da Future - Yeah
Mindustries - Playing the Game
Gabber House aka Cheese
Master of Rave - Gabber Until the End
Nu Style Gabber
Rotterdam Terror Corps - Pandemonia
Angerfist - My Style From the Darkside
Alienator - Causin' Panic
Bodylotion - Wanna Freak You
Chaosphere vs Evil Activities - Paranoid Dancer
Headbanger - Psycho Game
Noize Suppressor vs Endymion - Gagboy
Masters of Ceremony - Hardcore Will Survive
G-Town Madnes vs The Viper - Here It Comes
Happy Gabber aka Bouncy Techno
3 Steps Ahead - House From Hell
Rob Gee - XTC, You Got What I Need
Lany Dana - Booming Track
Lenny D and Dark Raver - To Da Rhythm
DJ Mito and Emo DJ - Best Party
Happy Hardcore - Happycore
Stealth - Love, Life and Happiness
Nakatomi - Children of the Night
Bang! - Shooting Star
Trixxy - Sunrize
Scott Brown - Elysium
Vis - Fly Away
Critical Mass - Happy Generation
4 Tune Fariytales - My Little Fantasy
Dune - Rainbow To the Stars
Trancecore
Dougal and Gammer - Jam the Nightclub
Deejay Bee and Overflow - Sunrise
Sharkey and Energy - Take Me Up
Clsm - Liberation
Justrich and Phosopher - Ain't No Stoppin' This
Social Outcast vs Shanyu, Tazz, Concept - Twist of Faith
Dave Davis - Transfiguration
Freeform aka Acidcore
Justrich, K-Komplex, Kevin Energy - Vision of Infinity
Scott Majestic - Acid Dreams
Kaos and Ethos - Get Fucked
Marc Smith and Sharkey - It's All Just Hardcore
Dair and Devastate - Music Power
Fade - The Future
Alek Szhala - Darkstar
Downtempo
Musique Concrete aka Avant-Garde, Modern Composition, Atonal
Pierre Schaeffer - Etude Noire
Edgar Varese - Poem Electronique
Iannis Xenakis - Concret PH
Karlheinz Stockhausen - Gesang Der Junglinge
Kid Baltan - Song of the Second Moon
Morton Subotnik - Silver Apples of the Moon Part 1
Raymond Scott - Twilight in Turkey
Tom Dissevelt - Anchor Chains
Terry Riley - A Rainbow of Curved Air
Steve Reich - Pulses
Philip Glass - Music in Twelve Parts (Part 2)
Tangerine Dream - Phaedra
The KLF - Madrugada Eterna
The Orb - A Huge Ever Growing Pulsating Brain That Rules from the Centre of the Ultraworld
Speedy J - Fill 17
Dreamfish - School of Fish
Robert Rich and Steven Roach - Fearless
Klaus Schulze - Velvet Voyage
Electronic Psychedelia aka Psychedelic Rock, Space Rock, Krautrock
Pierre Henry - Too Fortiche
Sliver Apples - Program
Neu! - Hallogalo
White Noise - Love Without Sound
Electronic Classical aka Experimental Classical
The BBC Radiophonic Workshop - Theme from Doctor Who
Isao Tomita - Gardens in the Rain
Early Synth aka Electronic Music
Hot Butter - Popcorn
Bruce Haack - Mean Old Devil
David Richmond - Movin' Along
Dave Vouhaus - Three D
Heinz Funk - Menuett
Roland Hovoc - Bits
Ron Geesin - Ambling Antics
Ted Atking and Alain Feanch - Children's Carnival
French Pop aka Proto Synthpop, Space Age Pop
Jean-Jacques Perrey - E.V.A.
Polyphonic Size - Girlscout
Silicon Teens - Memphis Tennessee
Taxi Girl - Cherchez Le Garçon
Telex - Eurovision
Sound Collage aka Tape Music, Sound Sculpting, Sampling
Electronia aka Electronic Music, EDM
Ethereal aka Neo-Classical, Neo-Folk, Ambient Goth
Arcana - Opening of the Wound
Coph Nia - Our Lady of the Stars
Dead Can Dance - Host of the Seraphim
Ordo Rosarius Euqilbrio - Remember Depravity, and the Orgies of Rome
The Changelings - Johnny's Ether's Great Escape
This Ascension - Lydia's Friend
Love Spirals Downwards - Shide
Dark Ambient
Tetsu Inoue - Q-Tip
Armegeddon Project - Becoming
Robert Rich and Lustmord - Hidden Refuge
In Slaughter Natives - Beauty and Bleeding
Desiderii Marginis - Forlorn Pt 2
New Age aka Easy Listening
Enya - Only Time
Boko Suziki - Spirit, Breath, and Movement
Ray Lynch - The Oh of Pleasure
John Taylor - L'Autre Moi
Worldbeat aka Ethnic
Loop Guru - Papasus
Deep Forest - Deep Forest
Delirium - 'Til the End of Time
Enigma - Return to Innocence
Baaba Maal - I Will Follow You
Declan Flynn - Bahatu
Gotan Project - Sufism
B-Tribe - Suave Suave
Afro Celt Sound System - Amber
Ambient House
The Orb - Little Fluffy Clouds
Biosphere - Baby Interphase
Ambient Techno
Plastikman - Consumed
Aphex Twin - Xtal
The Higher Intelligence Agency - Delta
Orbital - Halycon+On+On
Theorem - Plas
Ambient Breaks
Alter)ring - Infinitely Gentle Blows
Rob D - Clubbed To Death
Moby - Porcelain
The Future Sound of London - Paupa New Guniea
Illbient
DJ Spooky - Phase Interlude
Wagon Christ - Sleeper
UNKLE - Rabbit in Your Headlights
Boards of Canada - Roygbiv
Neotropic - Northwest 37th
Spectre - I Asked For Water
Irresistible Force - Nepalese Bliss (DJ Food Remake)
Sixtoo - Boxcutter Emporium
Acid Jazz
Raw Instinct - De La Bass
Mateo and Matos - Taste of Funk
Ronny Jordan - After Hours
Ballistic Brothers - Blacker
Nightmares On Wax - Les Nuits
Arnica Motana - Eau De Malta
Kruder and Dorfmeister - Definition
Sofa Surfers - Sofa Rockers
Silent Poets - Break in the Circle
Nu Jazz aka Fusion, Electro-Jazz
9 Lazy 9 - The Herb
Funki Porcini - Long Road
Hedfunk - Agua
Jaga Jazzist - Made for Radio
Journeyman - Biscuits
Luke Vibert - Get Your Head Down
Skalpel - So Far
Downbeat aka Not Exactly Trip Hop, Not Exactly Acid Jazz
Olive - You're Not Alone
Sneaker Pimps - 6 Underground
Royksopp - Eple
Beth Orton - Stars All Seem To Sleep
Mandalay - Flowers Bloom
Trip Hop aka Dub Hop, Brit Hop
Ambient Trance
Air Liquide - If There Was No Gravity
Crystalsphere - Ambient=The Mind
It - Dream Injection
Mystic Force - Clearlight
Leama - Requiem For a Dream
Ambient Psy aka Ambient Goa, Downtempo Psy, Psy Chillout
Cosmosis - Afterglow
Shpongle - Divine Moments of Truth
Sundog - Seven Minutes 2 Midnight
The Infinity Project - When Sound Becomes Color
---
Tropes common to the genre descriptions include:
---