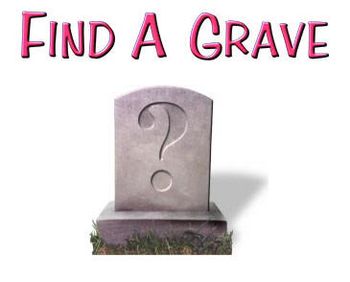 Find a Grave's mission is to find, record and present final disposition information from around the world as a virtual cemetery experience.
— Site FAQ
Find A Grave
is a website where you can find a grave. It is somewhat like a wiki (but not quite) in that anyone can enter a grave (That's putting one on the site, not "entering" a grave), but the people creating the page retain control over it - you can request edits that need to be approved.
In 1995, back in the early days of the Internet, Salt Lake City resident Jim Tipton started up a site for his hobby of visiting the burial sites of celebrities. Eventually, he opened up the site to all human graves. Genealogists were happy to start adding graves in nearby cemeteries.
By 2015, there were over 138 million graves listed. It's not all graves, either - it's really more "final resting place". They have listings for cremation, donating your body For Science!, Never Found the Body, Not Enough to Bury, etc.
If the grave of someone you know is across the country, this lets you visit and pay your respects virtually. Armchair genealogists love the site as a way to follow family history without leaving the house - it used to be you would have to leave the house, go to a cemetery and search for a person's stone. Cemeteries, in an effort to keep the ground tidy and uncluttered by signage, are rather notorious for having plot location systems that are not casual-user friendly, and no one standing around or available to help point you in the right directionnote Cemeteries make money off burials, and that's pretty much it. It's not pure profit, either - they still have to pay groundskeepers and grave diggers and the administrative staff. Also, some say the site is in some ways better than a cemetery, because here you can actually get an inkling more about the person than their name, birth and death dates - here you can see what they looked like, how they died, and what sort of person they were.
However, the site is not without its detractors. Some people are opposed to people profiting off their family's graves (the site runs on ad revenue). Some people have trouble gaining control of the pages belonging to a loved one's grave. Sometimes people post copyrighted photos. You're not supposed to cut and paste an obituary into the deceased's page as a biographynote technically the obituary belongs to the newspaper it was published in/on. Of course, usually these are written so quickly and simply - the family and funeral home want it in the paper ASAP - it would be hard to rewrite them without it looking like plagiarism.. As with all websites random users can contribute to (as with TV Tropes), there's a fine line to walk between public information, privacy and the cost of maintaining a site.
Just like how people who use TV Tropes are Tropers, Find a Grave folks are called "Gravers". There's an online forum where Gravers can talk. It's inevitable that some tropers have found their way into the grave, so there's probably some listed there, too - not likely by their TV Tropes handle, though. (However, there are over 20 people with the surname "Troper
"....)
This has nothing to do with finding Peter Graves, but you can find him there anyway.
---
Tropes that apply to Find a Grave:
---
Leave Flowers
...and a Note...