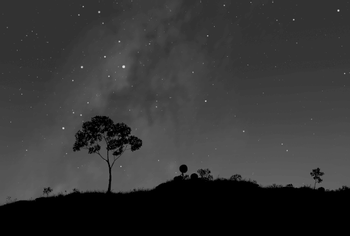 "You could spend a thousand lifetimes staring at water and sand, thinking as hard as you could, and you'd never guess the world has things like this in it."
— The Girl
When xkcd comic #1190 by Randall Munroe went up on March 25, 2013, it seemed to be a still frame of a boy and girl sitting on a slope. However, every half hour the comic changed ever so slightly, presenting successive frames of an animated image. First, the boy and girl built a sandcastle. But the story went on, revealing that the sea was rising. The boy and girl set off on The Quest, to find out why.
During the original run, the strip updated twice an hour, which was reduced to once an hour later in the story's run. The animation concluded on July 26, 2013, and the xkcd comic page
shows the final frame. A number of sites make the entire sequence of 3099 frames available for watching or rewatching:
Won the Best Graphic Story Hugo for 2014.
---
Time contains examples of:
---