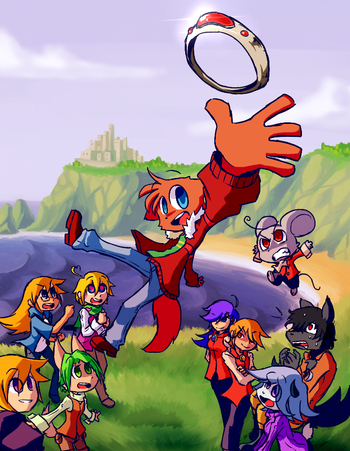 "All throughout this world flows an enigmatic power we call...Anima. Where it comes from and how it works is a mystery."
The Story of Anima is a Fantasy Webcomic by Bladerabbit
set in a world where everyone emits a powerful energy known as "Anima". Normally this can be harnessed into mundane technology known as "Catalysts", but some individuals, known as "Animus", can directly focus their Anima into incredible superpowers.
Our story begins when a group of mercenaries known as the Bloody Flames attempt to assassinate Princess Jade Marigold. They disable her airship and slaughter the crew, but with the aid of her loyal bodyguards, the princess flees in an escape pod, only to end up in the clutches of some bandits.
Luckily, a trio of heroic travelers, Kit Vulpes and the Brother–Sister Team of Hayden and Ada, are passing through. They make short work of the thieves and rescue Jade, letting her join them in their travels.
Meanwhile, her surviving bodyguards are scouring the land to find her. But whoever hired the Bloody Flames in the first place won't rest until the princess is out of the picture for good.
You can read it on Tapastic
and its own tumblr blog
.
---
Tropes: