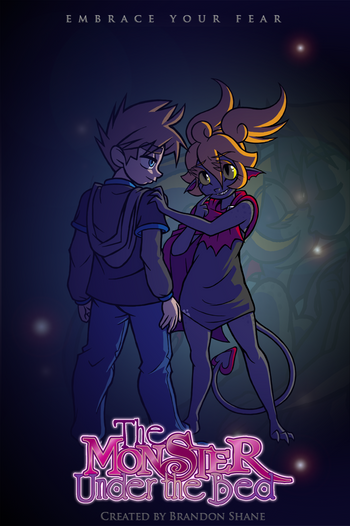 Tim is a perfectly ordinary 18-year-old young man, who has nothing special going for him. At least, that's what you would think if you didn't know about his nightly visits from his girlfriend, who happens to be a dark-skinned demon from another dimension, and that the portal she uses to get to Earth just happens to be located right under Tim's bed. What seems like a fun, romantic romp between human and monster turns into a story of drama and intrigue, both in the monster world and human world.
The Monster Under the Bed
is a webcomic by Brandon Shane, based on his original story of the same name. This webcomic is NSFW, so there is a link to a safe page provided. Updates Sundays.
---
This webcomic provides examples of:
Shadow
figures out that
Lady Blackheart and Tim's mother
are the same person after meeting both separately. She keeps this secret for seven years.
Marcy and Craig become this for Shadow

after properly getting to know her.
---