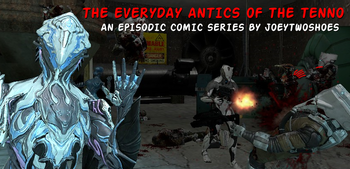 "Essentially, this comic intends to answer the question "What would it be like if the Tenno would talk?", after reading this comic... you'll wish it didn't."
— JoeyTwoShoes
The Everyday Antics of the Tenno
(or Tenno Antics
) is a comedic Warframe-themed webcomic made by JoeyTwoShoes. This comic aims to realistically portray the Tenno in their everyday lives as they undertake missions for the Lotus, and relax within their dojo.
Made in Garry's Mod, the series contains references to characters and aspects from the game proper, and features the Warframes from the game as unique characters, each with their own personalities and quirks. Notable in that the usually silent Tenno not only talk, but are also one of the comic's main sources of dialog.
Each issue captures an event in the lives of the Tenno, which range from minor disputes over who gets to keep a potato, to dealing with issues like an overly talkative Dethcube, but regardless, hilarious antics ensue.
The series has reached four comics (each referred to as issues by the comic's creator) and two spin-off shorts, they are as follows:
Main Issues
Issue #1: Meet the Tenno. Excalibur, Vauban, Valkyr and Ember blaze through a sabotage mission and are rewarded with a single orokin reactor, and subsequently try to decide who gets to keep it.
Issue #2: Scumcube. Vauban starts to feel distanced from his friends, and so builds a talking dethcube to keep him company, much to the dismay of his fellow space-ninjas.
Issue #3: Kickass Dojo Party. The Tenno decide to throw a party, and resort to "borrowing" some party supplies from a Corpus ship. Features a certain legendary crewman.
Issue #4: What Stalker?. A few of the Tenno bring some of their new gear to complete an alert at Uranus and obtain an orokin catalyst, but are set upon by

the Stalker

.
Shorts
---
Provides examples of:
---