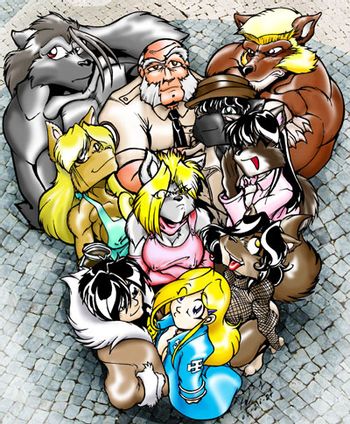 In a world where roughly one out of every thousand people is a werewolf, were-cat, or some other were-beast, Peter Stubbe is a runt werewolf. Disdained by his father, ridiculed by his pack, he turned to a human, Sarah, for companionship. Unfortunately nobody told him Our Werewolves Are Different and can transmit lycanthropy sexually. Now Sarah turns into a gigantic werewolf with very large breasts... and Peter has to train her how to handle her new assets, while dodging a Clingy Jealous Girl and mysterious goons who nobody else notices... or else.
As anyone who has heard of Kris Overstreet should probably guess, Peter Is the Wolf
has an NSFW version with graphic sex. However, it also has a SFW version. Overstreet writes the story and pays an illustrator to draw the comic. The comic is currently on hiatus because its latest illustrator, Mischa cel Frumos, resigned due to stress in her life so the illustrator position is vacant. Other former illustrators include Benjamin Rodriguez (also known as BAR-1) and Padunk. As of September 2017, the pair of Kris Overstreet and Benjamin Rodriguez split as Rodriguez's other commitments have led to various slips, and due to what appears to be Benjamin Rodriguez having crossed the line in Overstreet's eyes due to his response to the Charlottesville incident, according to this
and this
. The artist Padunk joined Overstreet for the primary pages in Book 4, Chapter 16 for pages 379-402, but then resigned because the comic was interfering with her commissions which were her main source of income. Strongly, strongly STRONGLY advise that you start here, (New Readers:Adult, NSFW)
or here (New Readers)
because of recent events.
A mirror of the comic can be found here
.
---
This comic provides examples of:
---