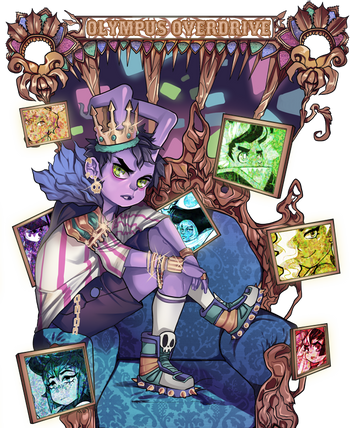 Olympus Overdrive
is a 2013 webcomic by milky and Antares (Hiveworks Comics LLD).
Max, a 19 year old IT consultant living with his sick mother, is met with a popup ad about being the one millionth visitor of the page and a link to an online personality test. He considers it a joke, so he sends the link of the test to his friend via instant messaging before filling the test himself.
Hardly does he finish the test, though, when he gets a package- or more like, a purple statue of a horse. When he touches it, an adolescent boy with horns appears and introduces himself as Hades, Lord of the Underworld. Turns out the two of them must work together- Zeus got tired of everyone constantly moaning about how badly he runs things so now the gods are playing a game to decide who can rule Olympus. The rules?
Each god is assigned a human who filled the personality test Max found as well. The god in question will get a "reboot", depending on the answers.

"Favourite food" decides what food the god in question will be able to eat while on Earth.
"Favourite colour" decides the god's skin colour.
"Recent Prized Possession" decides the overall theme of the god. (eg. Max wrote "flatscreen", so the three heads of Cerberus became flatscreens)
"Your Desired Height" is how tall the god will become.
"Male/Female/Other" will become the god's gender.

The god and the human will be connected with a chain at their chests during the night. During unchained hours, the "Favourite song" can be used to summon the god to wherever the human is.
Cutting the chain of another duo will give you their powers.
Having your chain cut will mean you lose- your god is out of the game and you yourself will have your memory wiped.
Each chapter seems to focus on a different character. Chapter 2 introduces a girl named Bong-Cha, Bobby for short, who may or may not be Australian and whose partner is Poseidon. Chapter 3 focuses primarily on the search for Eris and introduces, among others, Alex, a Russian kid whose partner is Hephaestus and Zeus' partner Ellie Jupiter.
---
Olympus Overdrive contains examples of: