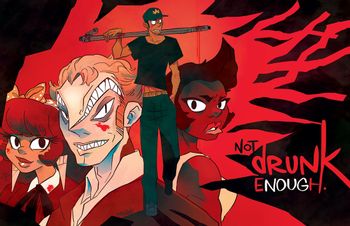 Not Drunk Enough
is an
Urban Fantasy
Horror
Webcomic
following repairman
Logan
as he is trapped inside a monster-riddled abandoned laboratory. He must find his way out with the help of
Bia
,
Maela
, and the CEO of said laboratory,
Varker
. Together they must find ways to overcome monsters, the
man
in charge of the lab, and their own inter-fighting.
The comic is written and illustrated by Tess Stone, who is previously known for his work as illustrator of Buzz! and author/illustrator of Hanna Is Not a Boy's Name.
The comic currently updates on Tuesdays and Thursdays. A mirror can be found here
.
---
This webcomic provides examples of: