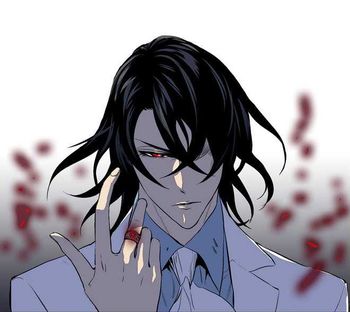 "I did not give you permission to move. Nor did I give you permission...to breathe."
— Cadis Etrama Di Raizel
Noblesse is a Korean webcomic about a 'noble', a powerful race once worshiped by humans, waking up from a 820-year slumber to find a modern city. After successfully navigating the traffic signals to find an old servant, he enrolls in high school to learn about this new world and modern technology. Hilarity Ensues.
...Until they draw the attention of a massive conspiracy somehow connected to his long slumber. Then action ensues.
The original Korean version of the comic can be found here
. The official English translation can be found here
.
Beware of Late Arrival Spoilers. The series is a Long Runner by Son Jae Ho, with more than 500 short chapters that are released weekly, various short comics, a sidestory, a Web Novel & two OVA, one a loose adaptation of some of Season 1 and the other a canon prequel, and in October 2020 received a 12-Episode Anime series, continuing from where the first OVA left off. Who Raizel and Frankenstein are and how they got here are Driving Questions, and some of the reveals are game-changing enough that it's hard to discuss the characters without spoilers from chapters 300+. The Production I.G OVA's intro text contained information not revealed until the climax of Season 3. The series officially came to an end at 543 chapters.
---
This comic provides examples of:
Curb-Stomp Battle:

ALL fights so far that have involved Rai. It's a big deal when the opponent draws his blood. Inverted while playing Counter-Strike. "Frankenstein...I experienced death today."
Frank doesn't have much problem with his opponents either early in the webtoon — at least after his full powers have been released.
Essentially every male character to those not used to the art style
A couple of the werewolf warriors areee incredibly ambiguous until their inevitable shirtless fight scene.
---