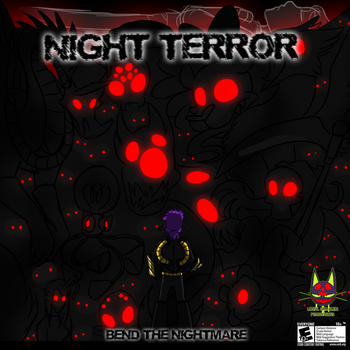 The Night Terror trilogy is a series of video games existing in the universe of Pilot. Created by the fictional company Lethal Grimalkin Productions, the trilogy is considered the crowning jewel of their work.
The first game follows a man known as Vincent Heliotrope, better known as Vince, a charismatic and hammy hero who lives in a world known as the Mindscape. It's his job to enter children's minds to battle the Phobias, who are anthropomorphic personifications of their fears. While he may be alone in their minds, he's assisted by several other characters: Jasper Cardinal, Vince's teacher and the tutorial, Sasalina, a cat lady who reforms Phobias into productive members of society, and Tybalt, god of the Dreamscape (the half of the Mindscape that isn't a corrupted wasteland). The Phobias are created by the evil Boogeyman, the master of children's fears, and god of the appropriately-named Nightmarescape.
Night Terror 2 takes place several years after the end of the original game. Between games, Jasper died, leaving behind his unhatched egg. Vince protects the egg for several years, until it hatches into Oak Kaleidoscope, a sparrow who can fight Phobias as well. Vince takes over as tutorial, leaving her the sole Phobia fighter in the Dreamscape. The Boogeyman's back again, with even more Phobias now than ever before. With Vince's training, Oak sets off to save the day once more. This game is notable for being a lot darker than the other games in the series.
Night Terror 3: Hero from the Past is a prequel, taking place a long while before the first game. This entry in the series answers several long-standing questions, such as the origins of Tybalt's mask, and where Vinny came from.
Ultimately, Night Terror 3 wound up being the last in the series, though there still exists fan support for a Night Terror 4. The games are still fondly remembered by many gamers in the world of Pilot, and DLC phobias are apparently still being added years later.
Bend the Tropes, kiddo!
---