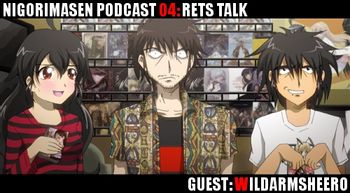 Mistakes of Youth
is a Webcomic started in 2006, revolving around the adventures of Rets, a "borderline hikikomori" otaku with a penchant for lolicon, Tina, a yaoi/shotacon fan who is inexplicably Rets' best friend, Brad, the shopclerk who is constantly irritated by Rets, and Rets' Japanese internet friend Go.
The title is a relatively famous (quoted twice in Otaku no Video) quote from Char Aznable of Mobile Suit Gundam.
---
Tropes:
Art Evolution: Very subtle, but the characters have gradually become prettier.
Fetish: Rets' obsession with paedophilia.
GIS Syndrome: For anime posters and box/manga covers. Often also for televisions.
Only Sane Man: Poor Brad. His regulars drive him so crazy with their perverted interests that he's willing to like the company of a Naruto fan.
Take That!: Often implemented. Especially at Hideki Anno's expense.

There's also an especially nasty (though very funny) one against Bee Train, which the author seems to dislike for mediocre production values and perceived repetitiveness of theme.
There have been numerous ones directed at Mobile Suit Gundam 00.

Poster-Gallery Bedroom: Rets' room is covered with loli posters from various anime sources.
---