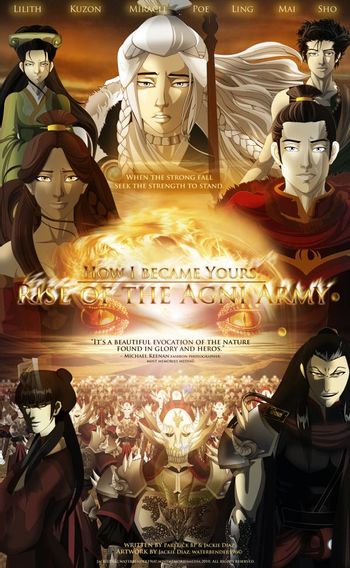 The sequel to the fan comic How I Became Yours based off of the show Avatar: The Last Airbender, How I Became Yours: Rise of the Agni Army is a fancomic created by Jackie Diaz and co-authored by a fellow named Patrick BP. Ms. Diaz was notorious for continuous tracing, stolen photographs, and bad Photoshops within the first comic. While only one partial chapter has been released so far, it seems that she's up to the same old shenanigans.
The comic starts off much as the first one did with a dream sequence flashback. In this, it shows an attack on the fire nation from the perspective of Lilith, Zuko and Katara's daughter. She wakes and after a short argument with her brother, Kuzon, they both leave to train. While training, they both experience flashbacks about the their time at the water tribe immediately following the attack. Once this ends, we move on to Poe, Aang and Toph's son, who is causing trouble. Ling, his twin sister, stops him and these two also have an argument before Ling buries him up to his neck in the ground and walks off. Then we get to see Miracle, Sokka and Azula's daughter, as she interacts with two children at the Northern Water Tribes capital... which leads to another flashback sequence of the treatment Lilith and Kuzon received in the Water Tribes due to their unorthodox parentage.
The comic is located right here
. It can also be found here
, if and when Ms. Diaz friendslocks this comic too. Unfortunately, only the first installment has been completed, and by now it appears to be a Dead Fic.
---
How I Became Yours: Rise of the Agni Army provides examples of:
---