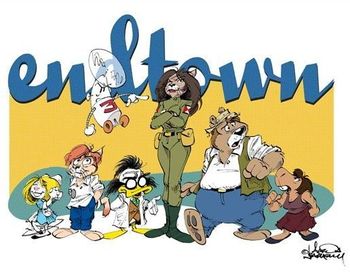 It's the End of Civilization as we know it. A mutagenic plague followed by a global war fought with disintegration weaponry has left much of the Earth a desert of fine powder and what remains of humanity fragmented into humans, animal-like mutants, and bloodthirsty monstrosities with lots of teeth. The surface, still teeming with the mutagenic virus, has become the domain of the dreaded Topsiders — well-organized, technologically advanced, and heavily armed un-mutated humans sworn to exterminate mutations of any kind in order to clear the way for the eventual resurgence of a new, genetically clean humanity. Faced with annihilation, mutants and "impure" humans have retreated into the depths of the planet to form communities and hope to win, or at least survive, what may prove to be mankind's final war. Endtown is the continuing story of one of those communities. It's also worth noting that every answer gives a dozen questions and mysteries are a major part of the story and thus best read without spoilers.
— Author's description of Endtown, found on the GoComics site
In short, Endtown is an apocalyptic Webcomic by Aaron Neathery that enjoys contrasting its Funny Animals and many silly jokes with the fact that it's The End of the World as We Know It. Alternates between being a funny comic, a serious comic, and a really friggin' scary comic, increasingly shading towards the latter two as time goes by.
The strip was originally hosted on Modern Tales
. When it moved to its new home at GoComics
, Neathery pretty much wrapped up the then-current arc and switched the focus of the action to a new set of characters; this was originally intended as something of a reboot ("Endtown 2.0") maintaining only loose continuity with the older comic, though the newer work was eventually merged with the earlier storyline (introducing some oddities in the process) and most of the original characters have gradually reappeared since the old Modern Tales strips were added to the GoComics archives.
Now has a FanficRecs page.
---
Endtown provides examples of:
---