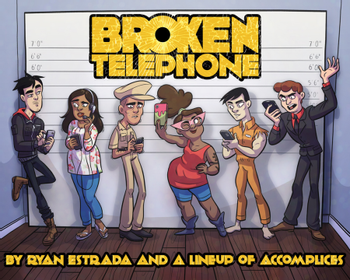 Broken Telephone
is a webcomic written by
Ryan Estrada
and illustrated by 18 artist teams. Due to the complexity of the plot, it took Estrada seven years to write the script.
The story begins with a woman in a call center in India who overhears a murder during a customer service call. After that it gets a little bit complicated...
The story is sort of a "Rashomon"-Style exploration of six events that happen simultaneously, yet all affect each other. Unlike Rashomon itself, the actual events which occur are clearly known; what is different is everybody's interpretations of these events. For example, Rick Rogers, the American ambassador to East Rhutan, is trying to get the East Rhutanian government to release a number of Americans they're keeping prisoner. To this end, he's been trying to befriend the East Rhutan Minister of Justice, Krushik, by going to parties with him and buying him lots of drinks. However, other characters in the story believe that Rogers isn't doing his job, he's just going to lots of parties and having fun. Other characters' motives are similarly misinterpreted, leading to a pile-up of misunderstandings that spirals hideously out of control.
There are no true good guys or bad guys in this story. Or, more to the point, there are six good guys and six bad guys... but they're the same six people.
Read it here.
The podcast Big Data is set in the same universe starring some of the same characters.
---
This series provides examples of:
---