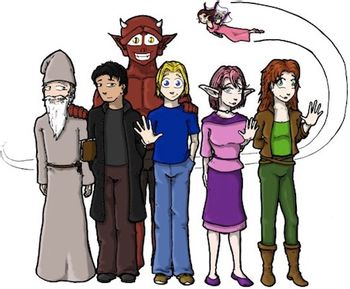 Bardsworth
is a webcomic about the adventures of Mike Cosley, an Ordinary High-School Student who finds a portal to a fantasy world in his closet. He ends up going to college at the prestigious Bardsworth Academy to learn magic. A fun family-friendly webcomic.
Characters include:
Mike Cosley: Having been unpopular at his high school, Mike seeks to start a new life at Bardsworth. Cheerful and silly with a great love of cookies.
Fawn: A fairy who befriends Mike. Cheerful and at times temperamental.
Kris: Mike's roommate. A serious student and a bit of a loner.
Crystal: A laid back and playful elf girl who Mike begins dating.
Keira: A hyperactive bard student. She's also Crystal's roommate.
Professor Fitzpot Fizzlebottom: A powerful wizard and Bardsworth professor whose house is on the other side of Mike's closet. Takes responsibility for Mike by helping him get into Bardsworth.
Francis: Fitzpot's friendly demon butler.
Danyel: Crystal's brother, who loves to prank Mike with various embarrassing spells.
Tammy: Mike's older sister.
Rayner: A former (and estranged) pupil of Fitzpot's, who was cast out of wizard society and who shows a particular interest in Mike.
Raven: One of Fawn's sisters, and The Eeyore of the family.
The author is writing a prose version of the story, Bardsworth University. There are two volumes out thus far.
---
This webcomic contains examples of:
Always Chaotic Evil: Demons are implied to be like this, with the obvious exception of Francis.
Art Evolution: Lampshaded once, with Mike looking around a now colored world and having the feeling that something is different...
Creator Cameo: One of the Grimble's enchantments causes Mike to briefly turn into a real life Peter Tarkulich. He's pretty freaked out by it.
Cute Kitten: Whiskers, the Cosleys' family cat. Extremely friendly and cuddly, he gets along famously with Fawn and his only real flaw is a tendency to knock down ornaments from the Christmas tree when the family's decorating it.
The Glomp: Keira frequently greets people this way, especially Mike. Her little sister Kara does this too.
Glowing Eyes of Doom:

After Malcolm blasts Fawn, Mike starts glowing with power, prepared to lay the smackdown on him.

Seen here
Informed Attribute: Tammy's "tormenting" of Mike is constantly referred to, but hardly ever shown; when she appears in the comic she's more often presented as a caring but aloof big sister who's only looking out for Mike. She does snark quite a bit at him and allude to acts of torment, but seldom if ever follows up on it and usually apologizes if she's gone too far.
---