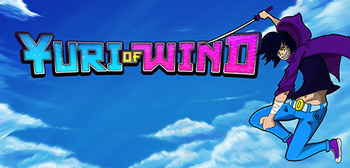 I've been creating gaming related content on Youtube since late 2008, under the poorly thought out username, Yuriofwind.

Over the years I've covered a variety of topics, whether they be cancelled games, the beta versions of video games, bootleg titles from all over the world, some of the worst creepypasta ever, and at some point I made a Let's Play channel that I keep forgetting to talk about :3
— Yuriofwind's Patreon description
Yuriofwind is a YouTuber who likes video games and anime. The work he does is part Video Review Show, part Let's Player, and part Vaporware and beta game describer. Yuri has unique segments where he discusses different topics that relate to video games.
Gaming Mysteries, which contrary to the title, usually has Yuri talk about betas of video games that may have been cancelled. There have also been a few videos that actually resemble the title, in the form of Urban Legends, including ones about videogames.

Yuri: Welcome to the magical world of Gaming Mysteries. Yes, Gaming Mysteries, a segment where I take a look at various mysteries in the world of gaming (go figure). This entails looking at the beta versions of games, unreleased games, or any other general mysteries.

Until 2013, there were also Creepy Gaming Mysteries, where creepypasta video game topics like Ben Drowned or Lavender Town Syndrome were explained and discussed. The aforementioned Lavender Town video was the last Creepy Gaming Mystery, and after that, the segment was removed to make room for the new creepypasta segment described below.

Yuri's Creepypasta Storytime (formerly known as Bullshit Creepypasta Storytime) is a segment that is similar to Creepy Gaming Mysteries, except instead of looking at/analyzing scary creepypastas, he reads terrible ones, while also adding MST and a load of Deadpan Snarker-ism.

Yuri: The series in which I tell you magical tales of not so magical story tales, with sarcasm. No matter the creepypasta, it will be taken down, with words.

Obscure Gaming, where Yuri talks about obscure games, either bootlegs or actual obscure games.

Yuri: In this series I take a look at "Obscure" games. Perhaps they're simply weird, but they also might be bootlegged and come from a dark alley somewhere! WHO KNOWS?!

Let's Plays, relegated to his Let's Play channel, YuriofwindGameplay.

Yuri:

Welcome to my Let's Play and Commentary channel. Here I'll do Let's Plays, and Commentaries.

It's fairly self explanatory.

Finally, I can take my sarcasm and put it into commentary form.

Reviews, where Yuri reviews games, be it on current or not-so-current games, and usually his reviews covers fighting games and RPGs. However, Andrew has quietly and unofficially retired this segment some time ago as he feels the term "review" itself has now become, as he describes, "icky" to him personally.

Yuri:

Ah yes, reviews, I remember when I used to do those things. I don't like to do them anymore, but I do have something of a new segment that is like reviews, but I don't say reviews, I just use my

stupid name

... without wanting to say my name out loud.

Makes any sense to you?

Upcoming Segment, a segment that Yuri has mentioned in the past, but that seems to have fallen through the cracks. It's so far a mystery what this segment is, but Andrew has mentioned the possibility of his face being seen in it.
Yuriofwind, a Spiritual Successor of sorts to Yuri's reviews, starting with his long awaited and overdue Gundam video about the game Mobile Suit Gundam Extreme Vs., eventually followed by Kamen Rider Super Climax Heroes and Kamen Rider Climax Fighters. As mentioned above, the segment is named after his name, but only because he couldn't think of a name for it. It's best to describe it as Yuri's personal video game spotlight series.

Yuri: Yeah, sorry it took forever to get the Gundam video out, life got in the way, I probably got sick, and I probably put more focus on other videos, probably was watching too much Kamen Rider, yeah...

Endslate, a series of miscellaneous content started in March 2017. As he describes it: "I decided to bring the horror to life, with Endslate the series, where I play a game, and ramble for a prolonged period of time." Not to be confused with the shorter segments at the end of other videos, which predate this series and are also called Endslate.
As mentioned above, Yuri also does Let's Plays, which he has another channel for. He's played:
His main channel can be found here
, and his Let's Play channel is over here
.
Creepypastas he's read on Bullshit Creepypasta Storytime (What it's based on)
---
Yuriofwind, his videos, and their subjects contain examples of the following tropes:
---