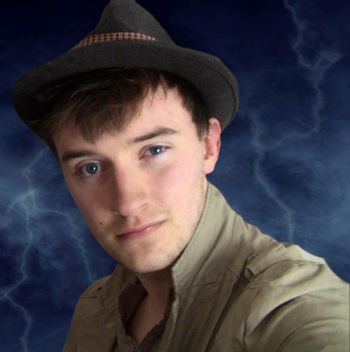 The Unusual Suspect is a Caustic Critic who reviews movies and video games. Originally he was inspired by Angry Video Game Nerd to do video games but became inspired by The Nostalgia Critic to review movies.
You can see his videos on YouTube
,Geekvision
, and The Agony Booth
.
---
He provides and discusses examples of:
Spiritual Successor: To the Nostalgia Critic, as he uses the reviewing style & does a good mix of using reference clips from movies, or TV shows, & sketches/cutaway gags, while Doug seems to have shifted from one to the other completely after bringing back the critic, as well as not coming off as a complete asshole with the dark comedy, and has a good amount of analysis of the movies at the end, which Doug introduced in 2013 to the NC. In addition to that, Il Neige. Especially with Neige not having a review out for a while, and even then, it was a long time since the one before, he seems to be filing the role quite well as a quirky non-Channel Awesome affiliated movie reviewer on YouTube from the late 90s to early/late 2000s generation. Though he doesn't have the limit of only reviewing movies from 2000 on, though even Neige has reviewed a movie that wasn't from the 2000s before. Two, if you count Pokémon 2000, which was released first in Japan in 1999, almost a year before America. He also handles visual effects very well in his own way that makes him stand out.
Spit Take: Suspect, as a Sony exec, does this when "another" says to sell the rights of Spider-Man back to Marvel.

Suspect does another in the The Two Towers review, when he founds out that the long-haired effeminate boy he mistook for a girl is actually a boy.

Take That!: He does plenty of these:

Musicians...

In his review for The Two Towers, he notes that the letter 'r' is the most sinister letter in the alphabet, pointing out all the evil things with the letter r in them, at the end of the list? Chris Brown.
"You fool, no man can kill me."

Suspect!Witch King:

Except maybe

will.i.am

, his music makes me wanna kill myself.

From his The Matrix review, when Morpheus is explaining the Matrix to Neo:

Morpheus: This is the world as it exists today.

Neo: Stop! Let me out! I want out!

...filmmakers...

Tommy Wiseau is subject to getting killed quite a bit.
In his Die Another Day review, when the doctor of the gene therapy clinic says that they use the tissue of orphans, runaways, and people that won't be missed, Suspect gets out his mobile and call Adam Sandler.

...and politicians.

In his Spider-Man 3 review, when looking through a dictionary to prove the accuracy of it, he finds the word Wanker... with a picture of David Cameron next to it.
He also takes a shot at Nick Clegg's backpedaling on tuition fees in the "Top 10 Things Episodes 4-6 Got Wrong" video to demonstrate the dickishness of Obi-Wan's "certain point of view" excuse for why he didn't really lie to Luke about his dad being dead.
He also equates the usefulness of Episode I's senate with that of real world politicians.
---