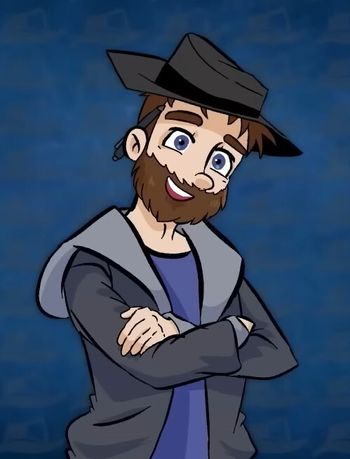 "I review terrible episodes from various cartoons and horrible animated movies. Whether it be
SpongeBob
,
Family Guy
,
a show that couldn't make it past its pilot, or awful
Disney
cheapquels. I also review some of the hidden gems that may have gotten lost in the mess providing some of the most tearjerking or heartwarming stories ever told."
—
Mr. Enter
describing himself on
his Patreon
The Mysterious Mr. Enter (a.k.a. John Enter, real name Johnathan Rozanski) is a freelance writer and internet critic known primarily for producing videos where he reviews works of animation, both good and bad.
Originally, Mr. Enter was known for his...
MLP Reviews: His first series, as the name implies, where Enter reviews My Little Pony: Friendship is Magic episodes using a unique point system. Each episode starts with five points, with Mr. Enter adding or deducting more as the episode progresses. At the end of the review, he gives out a medal ranking that reflects his personal feelings towards the episode and a star ranking based on what he thinks is its overall quality based on how many points it has earned. The highest number of stars being five while the lowest number being zero (episodes which he thinks have no redeeming value at all). Currently, he has reviews of every episode up through the finale of season four -– something he has not done in any of his later series –- with each review typically being posted within a couple of days of the episode's initial airing. During season five, he put the series on hiatus, but later stated that he may get back to reviewing them eventually. The series appears to be officially defunct in favor of his other series, with episodes of Friendship is Magic eligible for review in said series as of 2018.
Speaking of which, he currently has three series:
Animated Atrocities: The most popular of his series. Here, he reviews cartoon episodes considered to be "bad", whether they be examples of bad shows, bad episodes of good shows, failed pilots, bad animated films, or episodes of shows suffering from Seasonal Rot, such as SpongeBob SquarePants or Family Guy. He organizes his Atrocity reviews into 30-episode "seasons".
Admirable Animation: In this series he reviews good cartoons, usually ones with well-done, meaningful tearjerkers/heartwarming moments, ones that need more love, others that he finds unique or avant-garde, or ones that showcase how to properly execute certain genres and tropes. Rarely, a good episode of a bad show may be reviewed. Like Animated Atrocities, the Admirable Animations are organized into seasons, each consisting of 25 episodes (as opposed to 30). However, this series is updated far less frequently due to various factors, such as requiring much more work and being driven by his passion for the works in question. As such, he only does them when he feels the time is right. In July 2020, he announced that, for the time being, he will no longer be making this series. The finale episode premiered on March 15, 2021, taking the series to 60 episodes; however, the series was revived on May 6, 2022.
Further Thoughts / Behind the Review: Here, he shares his thoughts on a tangential topic touched upon in a prior review, acting as a series of Very Special Episodes that serve as companion pieces to certain episodes of his other series'. Mr. Enter previously shared his thoughts on these topics within the review itself, but later separated the practice into its own series so as not to clutter the review.
On top of his reviews, Mr. Enter occasionally makes opinion pieces and sub-series. These include:
Eras of Animation: A retrospective of animation, going decade-by-decade, starting from the pre-1910's era. This, however, seems to have been abandoned.
Technocracy: An eight-part documentary series about the various injustices present in social media platforms due to its higher-ups running them without accountability, and the effect it can have on our daily lives. (completed)

Episode 1: YouTube focuses on what happens when websites are radically out-of-touch with their userbase, with the specific example of how YouTube mistreats its content creators.
Episode 2: Facebook focuses on how your "private" data isn't really private and can be collected by unscrupulous companies.
Episode 3: Twitter focuses on the dangers of internet censorship and echo chambers.
Episode 4: Tumblr focuses on the impossibility of policing the internet, and the disasters that unfold when companies try, with the specific example of the Tumblr NSFW ban and how it drove away much of their userbase.
Episode 5: Digitial Distribution focuses on how users of digital storefronts like Steam don't really "own" the goods they purchase from it.
Episode 6: Payment Processors focuses on the cruelty of cutting people off from being able to pay for, or receive payment for, digital goods and services.
Episode 7: Google focuses on the dangers that arise when a company gets so massive that it starts amassing political influence.
Episode 8: Social Credit Systems focuses on the concept of a Socially Scored Society as seen in China.

Family Film Failures: Reviews of poorly done live-action family/children's films. Only one, Opposite Day, has been made so far.
Mixed Messages: Discussions of various takes on An Aesop in animation, and how many are handled poorly. Only one, on swearing, has been done so far.
Nick-O-Rama: A retrospective of (almost) every Nicktoon. Initially, Mr. Enter only reviewed Nicktoons which premiered on the main Nickelodeon channel, ignoring shows launched on its sister channels (e.g., Nick Jr., Noggin/The N, Nicktoons Network, etc.), acquired programming (such as those from Nelvana), or shows which lacked an official home video or streaming release; however, Mr. Enter created a second season to cover these shows, as well as correct factual mistakes from the first season.
Much of his content can found on his YouTube account, which can be found here
, and he also has a Dailymotion account, which can be found here
. He also had a Vimeo account before Fox terminated it in mid-2014. His Patreon where fans can fund reviews is here
, and you can check out his own personal website here
.
His other creative projects include: note Any opinions expressed here are those of Mr. Enter himself, and not the page's editor
Brovania: His former YouTube identity, with the since-abandoned goal of doing a Let's Play of all the games listed in 1001 Video Games You Must Play Before You Die.
<!—index—>
<!—/index—>
Challenge Accepted, where, starting in April 2018, Mr. Enter has been attempting to play all 1001 video games in the 2013 edition of 1001 Video Games You Must Play Before You Die.
He also has a second channel here
where he uploads miscellaneous material; the first 2 chapters of his vocal readings of Little Cassie are uploaded there. His body of work has a discussion thread on the TV Tropes Forum starting here.
---
The Mysterious Mr. Enter's videos provide examples of:
open/close all folders
Tropes A-M
Abandoned Catchphrase: All 3 of these catchphrases were very commonplace in Enter's earlier videos but gradually became less prevalent, before disappearing entirely by 2018.

"What I'm doing is wrong, I know its wrong, but I'm gonna do it anyway." In response to a character lampshading the foolishness of their actions or otherwise having an Ignored Epiphany.
"Pointing out your problems does not make them go away!" This would be done on response to poorly done Lampshade Hanging of an episode's plot.
"Because, Potatoes". This was used whenever Mr. Enter was at a loss for words or the plot veered into a new direction for no discernible reason. Unlike the former two, however, this catchphrase would make a brief reappearance in his video "Top 10 Worst Spongebob Episodes".

Abusive Parents: Having had these himself, he's very sensitive to when the subject is taken lightly, but appreciative when it's handled maturely, as in the "Bob's Father" episode of God, the Devil and Bob.
Tropes N-Z
---
---