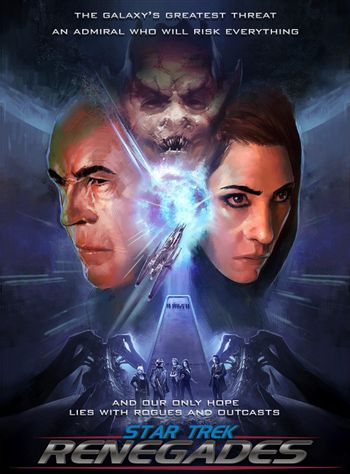 Star Trek: Renegades
is an independent fan-funded and fan-supported project which aspired to be a series, but only released a pilot.
It was executive produced by Sky Conway and directed by Star Trek: Voyager actor Tim Russ. It aimed to be the first continuation of the Star Trek timeline after Star Trek: Voyager, while featuring real Star Trek actors reprising their roles.
Set roughly ten years after Voyager's return to Earth, Renegades opens with Admiral Pavel Chekov (Walter Koenig) and Tuvok (Russ), who now heads Section 31, realizing that the Federation is facing a threat from within. Not knowing where else to turn, they hire an outlaw crew captained by the daughter of Khan Singh to undertake secret, off-the-books missions. The pilot episode has been released on YouTube, available here
.
Due to the regulations set forth by CBS and Paramount in June 2016, Star Trek: Renegades will be redubbed Renegades and will be moving forward as an original IP with its Star Trek elements removed.
---
Star Trek: Renegades provides examples of:
---