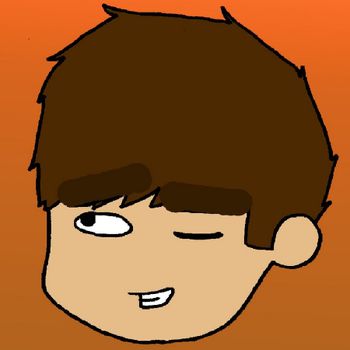 PieGuyRulz is a YouTuber known for reviewing cartoons and entertainment marketed towards children, primarily Nickelodeon and Cartoon Network. His account on YouTube began on April 9, 2008 and since then he has grown a loyal fanbase, with over 50,000 subscribers.
Regarding the name PieGuyRulz, it was initially created for Cartoon Orbit with its random name generator (at least the Pie-Guy part, anyway). The name he goes by in Real Life is A.J.
His currently recurring videos include:
Every Episode of ____ Reviewed!note : Pie Guy reviews every episode of a TV series, and concludes the episode review by giving it ranking on whether it is good, average, or bad. Series that have been featured include SpongeBob SquarePants* , Teen Titans, and Adventure Time.
Bottom of the Bakery: Here, he reviews awful episodes of Schneider's Bakery shows.

Bizarro Bakery: Where he reviews Schneider's Bakery episodes that have the same concept as episodes featured on Bottom of the Bakery, but with better execution.

TVlogs: PieGuy's first impressions of individual TV show episodes. Previously, he did videos for entire series, episode-by-episode, such as Avatar: The Legend of Korra and Adventure Time.
Network Upfronts: At the beginning of every year, he looks at Nickelodeon and Cartoon Network's upcoming releases and reacts to the news. Serves as a replacement for his State of the Network Addresses (see below)
Stupid Arguments: He analyzes and deconstructs certain arguments like "Don't Like, Don't Watch" and "It's Just For Kids," explaining why they aren't good to use.
Kids Choice Awards Videos: These videos consist of him voting for the yearly Nickelodeon Kids Choice Awards. Since 2015, Erin, his girlfriend/artist, has joined him for these videos. Hilarity Ensued.
DVD and Blu-Ray Reviews: Pie-Guy reviews DVDs and Blu-Rays.
His short-run and/or discontinued videos include:
His main YouTube channel is located here
.
His Let's Play and Livestream YouTube channel is located here
.
His Twitter profile is located here
.
His Twitch account is located here
His DeviantArt account is located here
.
His girlfriend/artist's DeviantArt account is located here
.
---
Tropes relating to PIEGUYRULZ:
---
---