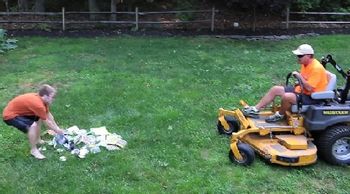 "What's so great about RiDGiD STUDiOS? Well, we are home to The "Psycho" series, that has accumulated well over 16 million hits and has become a little bit of an internet sensation. (Shows clips of his videos) Which is just a multitude of clips, featuring my broken home and dysfunctional family where I'm the brunt of everything. I am actually that little kid freaking out over his video games: This is my channel. Yes, I do upload these videos. Why?
Because you like them
."
—Jesse Ridgway
McJuggerNuggets is the YouTube channel of Jesse Ridgway and a character portrayed by him. Jesse and his channel are best known for his Psycho Series videos in which someone (usually the character's dad) becomes angry and it usually leads to the destruction of Jesse's things. While initially (seemingly) starting small, they grew into a massive Myth Arc with a serious plot that was presented almost like a serialized drama that Jesse has called "the greatest pseudo reality interactive storytelling experience of our generation".
The McJuggerNuggets channel can be found here
, with related channels for Jeffrey (BigBrudda) here
and Uncle Larry here
.
Jesse maintained that the videos were real until The Reveal on June 6, 2016, when two Psycho Series videos ("Psycho Kid Kills Dad" and "Psycho Kid Flees Country") were posted, and the last few seconds of the latter revealed the series was fake. Prior to this, there was more than enough evidence to suggest that they were fake, which could be found with about five minutes of searching on YouTube. Whether the videos were real or fake was hotly debated until the revelation.
Shortly after the end of The Psycho Series, Jesse began a 16-episode miniseries that follows an amnesiac Jesse in Switzerland as he attempts to regain his memories with help from Jeffrey, Jr. The real Jesse has described it as "the transition from Jesse as a character to Jesse as a real-life person."
He has released multiple additional series since then, including one following his fictional "issues" with a man named Brian Spitz (known on YouTube as "youtuber24"), My Virtual Reality, and The Devil Inside, as well as crossovers with The Angry Grandpa and boogie2988.
On December 14th, 2018, McJuggerNuggets released Psycho Kid Vs Psycho Dad, a graphic novel detailing the events after the Psycho Series ended.
---
open/close all folders
The Psycho Series provides examples of:
The Psycho Series
The new series provides examples of:
New series
The Real Life Vlogs provide examples of:
The Real Life Vlogs
Affectionate Parody: The Psycho Series Role Reversals in a nutshell.
Take That!: In one parody video in the post-Psycho Series vids. Jesse, Jeffrey Sr., and Jesse's Girlfriend each played the role of Michael "Pickleboy" Green, Charles "Angry Grandpa" Green, and Bridgett West and parodied "ANGRY GRANDPA DESTROYS PS4" in retaliation for Michael pranking Jesse during his visit to Boogie2988.

A few videos began to also mock other channels, one video mocked HagyRants, a vloger who attacks and insults Jesse repeatedly and accuses him of "scamming" his fans, the Psycho Mom channel for attempting to capitalize on Jesse's Psycho series, and most recently, Tech Rex, a channel dedicated to destroying tech items.
---