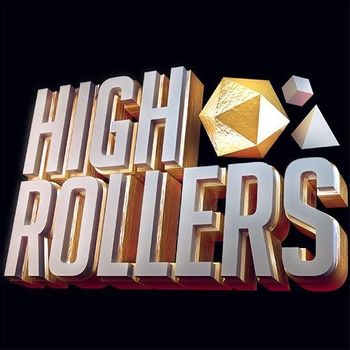 High Rollers is a weekly Dungeons & Dragons Fifth Edition campaign featuring members of the Yogscast. Sessions are livestreamed on Twitch every Sunday and later uploaded to the Yogscast Live
channel on Youtube.
The story is set in Arrak, a world that had been blessed with peace and prosperity for many years. This was due to "Pelor's Light", a celestial comet that passed through through the material plane every 100 years and spread positive energy; it healed the sick, blessed the harvest and kept monsters in a deep sleep. However, during its arrival on the 1300th year, the comet was mysteriously destroyed and its shards rained down upon the land below, throwing Arrak into chaos.
46 years after the comet's destruction, which came to be known as the "Lightfall", Arrak has begun to recover: cities and towns have been rebuilt, but the roads and forests are still unsafe, with monsters and other dangerous beings lurking about. When a caravan on its way to Talis'val, the capital of the Dawn Republic, is attacked, four travelers are forced to work together to survive and reach their destination...
With the Lightfall campaign finished, they now play in Mark's new campaign, "Aerois," a world of Magitek, airships, and long-forgotten secrets after a cataclysmic war ended centuries ago. They did return to the Lightfall characters for a Sequel Miniseries taking them on a multidimensional adventure to rescue Trellimar from his infernal contract as part of a promotion for the official Fifth Edition module Baldur's Gate: Descent into Avernus.
In January 2020, Tom and Rhiannon started a gaming stream on the HR Twitch channel called Chaos Twins. And in April 2020, during the Coronavirus Disease 2019 Pandemic, they started a full campaign of Curse of Strahd, in addition to the Aerois campaign.
The cast includes:
For the first (Lightfall) campaign:
Chris Trott as Cam Arune Buckland, a human trickster cleric.
Kim Richards as Jiǔtóu Zhìjī Jīng, a tiefling monk.
Katie Morrison as Elora Galanodel, a high elf druid.
Matthew Tofollo as Trellimar Aleath, a drow warlock. (Matt eventually left the show, occasionally returning for cameos, but he was officially replaced by...)
Tom Hazell as Reynard Ferehorn, a human ranger.
For the second (Aerois) campaign:
Chris as Lucius Virion Elluin Elenasto, a high elf arcane chromat.
Kim as Nova V'Ger, an air genasi warlock.
Katie as Aila, a wild elf barbarian.
Tom as Qillek Ad Khollar, an aarakocra bard/cleric multiclass.
Rhiannon Gower as Sentry, a guardian paladin.
Mark also has a show on his own Twitch channel called "Behind the Screen", where he answers viewer questions about his worldbuilding and dungeon mastering for the campaign. His players are very explicitly forbidden from watching lest they learn something they aren't supposed to know yet.
The group's members have varying expertise when it comes to Dungeons and Dragons. Both Mark and Trott play regularly in their own time, while Katie is very familiar with it thanks to Critical Role, but hadn't played the game herself prior to the series. Kim, Matt, Tom, and Rhiannon were all essentially newcomers to the whole thing when they started.
Not to be confused with the game show of the same name; the only thing involved in both are dice.
Kim has GMed a couple of one off episodes set in the same world but on the opposite side of the continent with different characters two of which have been played by Katie and Matt.
open/close all folders
The Lightfall Campaign contains examples of:
Lightfall Campaign tropes
The Aerois Campaign contains examples of:
Aerois Campaign tropes