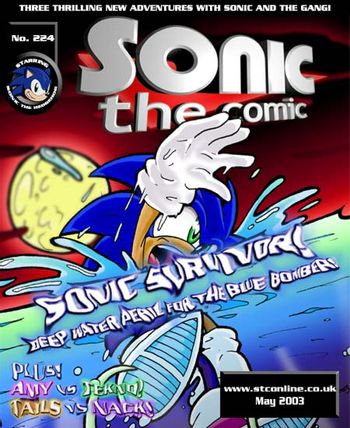 Sonic the Comic-Online!
is a Fan Sequel of the long running Sonic the Comic, resurrected in webcomic form; with the consent of several of the original writers and artists. It began in 2003 and releases on a slow update schedule, releasing on average two issues per year. It bears many of the hallmarks of the original series upon which it is based, making use of its own distinct Sonic continuity, as well as continuing and beginning strips based on other Sega games. It has a rather broad selection of readers, primarily from the USA with the UK coming in second, and a smaller spread worldwide.
STCO begins at an undefined, but short, amount of time following the final story arc of STC. Sonic and friends are attempting to recover the sunken Floating Island, the fate of Dr Zachary is revealed and a series of antagonists are set up as the upcoming threat, primarily The Syndicate, The Family, and Kane Broadcasting Company. This eventually leads into an adaptation of Sonic Adventure 2, which culminated in the total destruction of the Special Zone. These events began the lead up to Kane convincing the population of Mobius that Sonic has been the real threat all along, whilst Grimer executes a final maneuver in honor of the mentally handicapped (and presumed dead) Doctor Robotnik to turn Sonic's closest friends against him.
Then Robotnik returns to power, built into a giant supercomputer to regulate his insanity, under the guidance of the Drakon Empire who are using him as a cover for their invasion force; another attempt at capturing the Emerald Mines on the Floating Island, and, thanks to a deal Sonic made to prevent the destruction of the Special Zone destroying Mobius, the Drakon Empire and Robotnik have the ability to destroy Mobius on a whim.
Issues #275 and #276 have a final Sonic story being written by the original comic's head writers.
Not to be confused with Archie Sonic Online, an online continuation of Archie Comics' Sonic the Hedgehog, or Sonic the Continuation, a separate Fleetway fan-sequel.
---
This comic provides examples of:
---