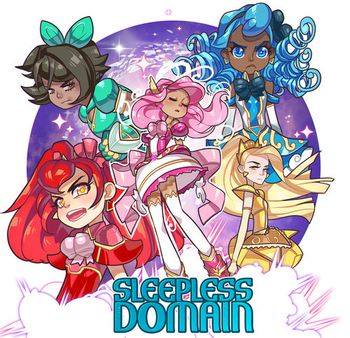 The time is now 10 PM. All citizens should be indoors, and all magical girls transformed.
By day, a nameless, isolated city is safe under the Great Barrier. Every night, however, monsters come in from the surrounding lands and terrorize the city. The first line of defense against these monsters are young magical girls, such as the five teenagers that make up Team Alchemical. Practically celebrities, these girls are regarded as champions, are honoured and respected above all else, with all the support that implies, especially if they are registered.
It would be almost perfect... except for the part where they have to risk their lives every night.
One night, that risk becomes tragedy and one of the girls of Team Alchemical, Undine, also known as Alchemical Water, decides to find out why it happened. Even if that means she has to do it alone.
Sleepless Domain
is a Hiveworks original webcomic written by Mary Cagle, with Oskar Vega drawing the first two chapters and Cagle taking over drawing from that point on. The comic is edited by Jojo, the head of Hiveworks, and Isabelle Melançon.
---
Sleepless Domain provides examples of:
Dark Magical Girl: Undine receives hints that there may be a magical girl working for the other side and guiding some of the monsters.
Dead All Along: Chapter 5 - Page 14: The dark magical girl taunts Undine by implying she's already dead. Of course, in the very next page she taunts her for taking that insult literally, so maybe we shouldn't read into it too much.