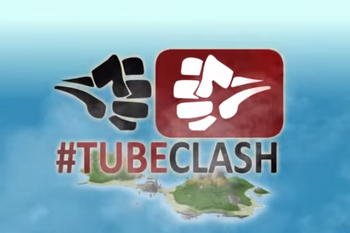 TubeClash is an animated original web series by German YouTube channel Darkviktory.The series' concept resembles that of Battle Royale, a group of seemingly random chosen persons being thrown into a strange and often hostie environment in which they must try to both survive and eliminate their rivals to come out as winner. In TubeClash however, the participants are avatars of popular german Youtubers, divided into two group, or rather two "Clashes", Clash A and B. Each team's goal is to eliminate the entirety of the rival Clash first, then fight amongst each other until only one remains. It should be noted that both the plot and characters of the series are more comical in tone than the premise might suggest. This is a deliberate choice of the designers, who favoured producing a parody with drama elements over an outright drama.
The series' first episode aired on the 22th of August 2014. The first season consists of ten episodes of varying run times.This is mainly due to the unique nature of the series, mainly the participation of it's spectators. Rather than writing the entirety of the plot beforehand, the producers instead pick comments and suggestions which they consider benefitial to the overall story and implement them, causing them to write every new episode shortly after the previous one was uploaded.
In addition, the series' fans get another way of influencing the plot by voting for certain Clashers, namely voting whether or not they want them to survive another episode. The two Clashers with the least amount of votes are in danger of being the one to die in the episode following the vote, a coin flip ultimately decides their respective fates.This is the series' primal unique feature and the main cause for it's large popularity amongst the german Youtube community.
Darkviktory has stated that the series is slated to be a trilogy.
---
TubeClash provides examples of:
---