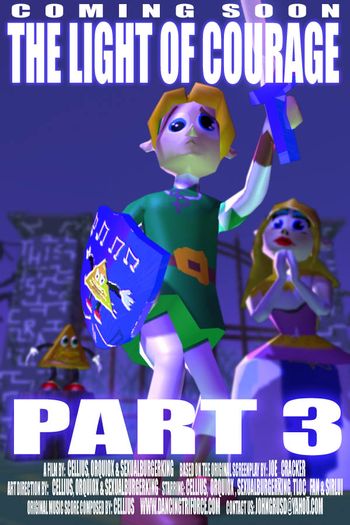 The Legend of Zelda: The Light of Courage is an alleged script of an animated movie based on The Legend of Zelda video game series by IGN forum user Joe_Cracker
. Joe_Cracker's attempts to get his script, which was itself of dubious quality, are a saga unto themselves, but several denizens of the forum got together and made several animations based directly on the script and posted them on the internet. These shorts lift dialogue directly from the script, complete with syntactical and grammatical errors. The characters were rendered in a blocky, polygonal style with several animation errors kept in for humorous effect. This resulted in shorts that are pretty funny to watch on their own, but absolutely hilarious if one knows the saga behind them.
View the three shorts here
. Read about the author's three-year-long odyssey to get his movie made here
. And finally, the original script that started it all has been mirrored here
.
---
The Light of Courage provides examples of:
---