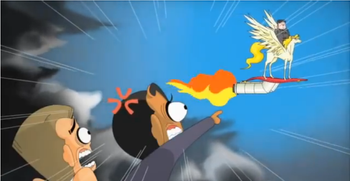 "Those who find this odd will be fed to the poor... of other nations, since there is no poverty in True Korea. Or cannibalism."
— Metal Minister
The Adventures of Kim Jong Un is a series of CollegeHumor web animations chronicling the fictional adventures of North Korea's dictator and his Robot Buddy. The series claims to be written and directed by Kim Jong-un himself and resembles a combination of pro-North Korean Propaganda Piece and personal Wish-Fulfillment, with Kim portrayed as a Marty Stu ruling over a shining Utopia and foiling Barack Obama's evil capitalist plans with ease.
The first episode, simply titled "The Adventures of Kim Jong Un," was posted on May 9, 2012, and the series officially came to a close with the second part of "Kim Jong Un vs. Kim Jong Il" on April 3, 2014.
See The Rulers of North Korea for information on the real-life North Korean government.
---
This series provides examples of: