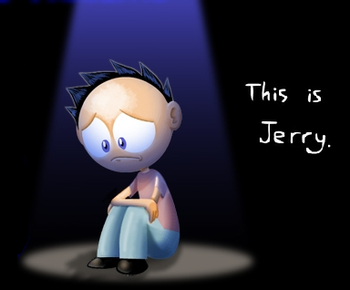 Jerry is a 2007-2009 series by HotDiggedyDemon told over the course of 5 Flash shorts thematically centered around helplessness, poverty, and the inability of the characters to handle the world around them.
The first cartoon was about Jerry's life as a young bachelor, the monotony of his day-to-day life and the birth of his child. Two of the other shorts dealt with his childhood, and the other two with the people whose lives were affected by Jerry. All in no particular order.
The episodes in order are:
"Jerry": Jerry's depressingly monotonous life leading up to his suicide.
"Little Jerry and the Closet": A peak into Jerry's miserable childhood and his mysteriously horrifying closet.
"Jackie": Taking place during the same time as the first episode, we see the life of Jackie, whose life isn't as better as Jerry's.
"Junior": Several years after Jerry's suicide, we see his son discover Jerry's abusive father.
"Jerry: The End": The Series Finale. Taking place a day after "Little Jerry and the Closet", we see how little Jerry deals with the death of his mother.
"Jerry 2": In this comedic Bizarro Episode, Jerry acts ike Jerry Seinfeld.
Despite its crude animation and short running time, Jerry manages to weave a web of complicated, rounded characters and events.
The whole series is about a half hour and is available on YouTube here
.
---
These are tropes.
---