"Dragonborn, Dragonborn
Whatcha gonna do?
Whatcha gonna do when Skyrim cops come for you?"
— The "translated"note lyrics of the theme song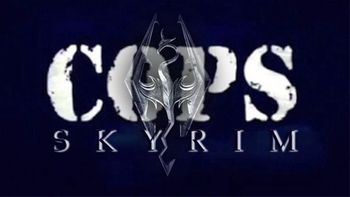 COPS: Skyrim is a Machinima based on The Elder Scrolls V: Skyrim. It was created by adjacentGAMES and hosted on the Nerdist
YouTube channel until the end of its fifth season in 2014. In 2017 it was resurrected on the adjacentGAMES' channel
and given a Soft Reboot.
It is a parody of the long-running series, COPS, except this time featuring Imperial Guards handling similar crimes. By the end of its third season, it has evolved from a light-hearted parody of COPS into a dramedic crime drama featuring Officer Jenkins and his sidekick, Belford, though it still occcasionally focuses on various other unnamed and often expendable guards.
Officer Jenkins has his own Facebook page
---
COPS: Skyrim includes examples of:
---